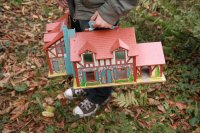 Assuring homes for people with HIV can help us prevent the spread of the virus.
Last week, scientists announced the findings of a groundbreaking study that shows that HIV-positive people drastically reduce the risk of passing the virus to a partner if they begin antiretrovirals while they are still healthy.
The findings of the trial, known as HPTN 052, make a convincing argument for treating people with antiretrovirals early in their diagnosis. Incidentally, the results of the study also make a powerful argument for guaranteed early access to another type of treatment -- housing.
Why?
Years of research show that people connected to a stable home are significantly more likely to be linked to care, and thus, to the medications that can halt transmission and protect public health.
We know that without a bed for rest, a refrigerator to store medicine, or a kitchen to prepare meals, it's incredibly difficult -- if not impossible -- to adhere to the burdensome prescription regimen that accompanies life with HIV/AIDS. For those without a home who also battle co-occurring disabilities like mental illness and substance use, sticking to a prescription schedule can be an insurmountable task.
Advertisement
Despite the undeniable link between housing and antiretroviral adherence, however, funding and support for housing-as-treatment continue to lag in this country. Housing is the greatest unmet need of Americans living with HIV/AIDS, according to the National AIDS Housing Coalition. Today, according to NAHC, there are 140,000 families with HIV that lack a stable home.
Which is why, for those who have spent years pushing housing as a data-proven, cost-efficient method for treatment and prevention, the results of the clinical trial represent a powerful advocacy tool.
"[The study] is another piece of the puzzle," said NAHC's Lauren Nussbaum. "Housing links to treatment and treatment links to prevention. So if we can get a person into housing and then into treatment faster, it's good not only for the individual, but for society as a whole."
The results of the trial show that participants with HIV were 96 percent less likely to transmit the virus to their partners if they were taking antiretrovirals immediately following HIV diagnosis. Run by the National Institute of Allergy and Infectious Diseases and the University of North Carolina, the study involved 1,763 couples in 13 cities on four continents.
Scientists have conducted previous studies that demonstrated that starting drug treatment immediately after diagnosis can prevent HIV tranmission. This is the first evidence, however, from a randomized clinical trial, considered the gold standard in medical research.