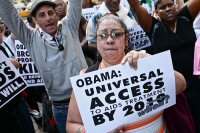 AIDS activists at the UN last summer.
Step up with Housing Works, ACT UP, Health GAP and other organizations.
On Wednesday June 8, join the march and rally in New York City to fight for AIDS treatment, dignity and respect for people living with AIDS at the United Nations headquarters.
June 8th is the first day of the United Nations High Level Meeting on HIV/AIDS. World leaders will be meeting in New York City to adopt a new declaration that will reaffirm commitments and actions to fight global AIDS.
We are demanding:
Full Funding to end AIDS
Respect for human rights for all people
15 million people on AIDS treatment by 2015
An end to trade deals that put profits and patents ahead of lives
World leaders keep their promise to achieving universal access to treatment
March starts at Bryant Park (42nd Street and 6th Avenue) at 11AM SHARP
Rally in Dag Hammarskjold Plaza at United Nations Building
(47th Street and 2nd Avenue) at 12:30PM
Register yourself and your group
Contact: Jennifer Flynn, 917-517-5202, jflynn@healthgap.org

This article was provided by
Housing Works
. It is a part of the publication
Housing Works AIDS Issues Update
. Visit
Housing Works' website
to find out more about their activities, publications and services.
(Please note: Your name and comment will be public, and may even show up in
Internet search results. Be careful when providing personal information! Before
adding your comment, please
read TheBody.com's Comment Policy
.)