D.C. Council Member Under Fire for Sacrificing AIDS Funds
By Candace Y.A. Montague

May 12, 2011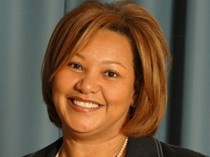 Council Member under fire for diverting funds from AIDS. Credits: dccouncil.washington.dc.us.
Council member Yvette Alexander (D-Ward 7) wants the health department to spend more money in her ward on health issues. She insists that the department must do more to attend to the health issues that plague her neighborhoods such as obesity, diabetes, teen pregnancy, and hypertension. The trouble is she wants the focus to be taken off of the HIV/AIDS, where it is needed the most. Activist groups, non-profit organizations and citizens are disturbed by this and want answers.
In the Washington Post on Monday, Ms. Alexander stated that "In the past, there has been a lot of focus on HIV/AIDS, which, of course, is a priority, too, but there are so many other issues, and that shouldn't be the sole focus." She is correct about that one. According to the Obesity Report of 2010, Ward 7 has an obesity rate of 40%. The hypertension rate is 42% while the diabetes rate is 13%. However, 12% of all new HIV infections in DC come from Ward 7 and unlike hypertension and obesity, lifestyle changes will not rid a person of HIV. DC Fights Back, an AIDS advocacy group, expressed outrage at Alexander's suggestion to redirect funds. "By diverting HIV funding, [Alexander] is creating a false competition between health conditions. This creates a segmented health system that pits conditions against each other (HIV versus diabetes versus obesity)." It is also important to note that the city council unanimously voted for the Healthy Schools Act of 2010 which addresses some of the health and nutrition concerns.
Advertisement
As for the issues with teen pregnancy, Adam Tenner, Executive Director for
Metro Teen AIDS
, says "Only a third of the health department budget is spent on HIV and two thirds are spent on broader health issues. If we look broadly at HIV prevention services most of those services are geared at reducing sexual risk taking which ideally would also translate to helping to reduce teen pregnancy. I was a little shocked by the council member's comments. She's been an ally in reproductive health including HIV."
Ward 7 residents and workers also expressed their disappointment with Council Member Alexander's remarks. J'Mia Edwards, Testing Coordinator for the Emergency Room at United Medical Center, stated, "I think she sounds crazy to even suggest that the health department take funds from individuals who are positive and those who are affected by the disease. What about us positive individuals who access those funds for medical treatment, medication, and food? She must want the rate of infection to increase because individuals will pick up risky behaviors just to survive out here." Joell Royal, Ward 7 resident, says this epidemic is critical and needs to remain a top priority. "If funding streams are cut and used to promote other health disparities this will create a huge gap in services and limit access to treatment and care within this area that is already underfunded. It is important as a citizen of this ward that myself, and others advocate for the voiceless in protecting the dignity and lives of people living with HIV and AIDS East of the Anacostia River."
Yvette Alexander did not respond to a request for a comment regarding her statement.
If you wish to reach the Council Member's office to express your concerns, email her at yalexander@dccouncil.us or click here to contact her through her website. You may also call (202) 724-8068.
Get e-mail notifications every time Candace's blog is updated.
---
| | |
| --- | --- |
| No comments have been made. | |
Add Your Comment:
(Please note: Your name and comment will be public, and may even show up in
Internet search results. Be careful when providing personal information! Before
adding your comment, please
read TheBody.com's Comment Policy
.)