I Don't Have Time to Be Sick
By Brooke Davidoff

May 12, 2011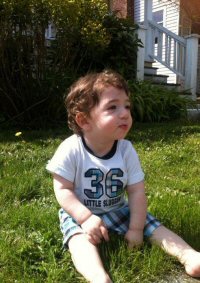 Myles at 9 months.
Job that pays the bills (most of the time) -- check
Medication and 12-month refill for my prescriptions -- check
New medical insurance through work -- check
Positive support system via friends, family & fans -- check
Having free time to go see a new doctor and get my lab work done -- NO check. I simply don't have TIME to be sick.
Anyone else work Monday to Friday 8am - 5pm and have NO time off work to do anything? I also work every other Saturday. I have no vacation time left, I'm out of sick days, and hey I have NOT been to a doctor in MONTHS.
My last vacation time off work my mother, brothers and I went to Lake Tahoe to dispose of my father's ashes.
Advertisement
I'm supposed to go every 3 months to a doctor for labs. My last doctor appointment was all the way back in October, and it's currently May. I'm still taking my pills, and I still have NO symptoms.
Too bad I can't go to the doctor after hours or on weekends. When are people who work supposed to go see their doctors? In other countries you can go to the doctor AFTER work. WOW what a concept. My brother just moved back to America from Taiwan and informed me that you can go to the doctor on weekends or nights. Now that would be amazing.
I'd love to know my numbers. To see if I need my Bactrim prescription refilled that I ran out of more than a month ago. But there is NO time. I barely have enough time to shower these days.
Full-time work, part-time mom and wife = NO free time. No reading time. I never even finished a book on pregnancy when I was pregnant. No exercise time; I don't even do housework anymore. Thank god for my stay-home husband -- he does laundry, cooks, and cleans. I go to work and come home, play with our son so hubby can make dinner. We trade off nights with Myles so we can shower.
Given my only 6 days off of work a month and being a new mommy, I like to take those days off to hang out with my son. He never gets to see me. He stays up way too late so he can have mommy time on week nights.
Myles is 9 months old now. He is talking these days -- says "Hi Cat" "Kitty Cat" "Mommmmmmm" "Adddddy" "I got it" "I'm good".
He eats Cheerios, baby food, carrots, yogurt, ice cream. He is adorable and I don't even mind that he wants to hang out till midnight when I have to wake up at 630am. I have Myles withdrawals also.
He is finally crawling!! And he can stand on his own holding onto things. For Mother's Day I wrote him a poem:
Mother's Day – a celebration of me
Seems silly
without you who knows where I would be?
Sick
Depressed
Unmotivated
It's been a tough year
to say the least
You are what made it worth it
Without you I'd be silently secretly sick
until it was too late
I'd be fatherless and sad
with no cute adorable curly man child
I'd have no motivation
to get out of bed
to not crawl into a cave
Sadness would eat me up
But I come home
see you on the couch
you reach for me and smile
giggle with me
and make life worth living
I can't let you down
you already saved me
I cannot make my father proud anymore
I have to do it for YOU
My inspiration
my new best friend
you are named after some of the people
who would have loved the most to meet you
and I owe it to them
to give you the best life possible.
So on Mothers Day
I thank you
for saving my life
for keeping me positive, focused
and striving to better myself
Get e-mail notifications every time Brooke's blog is updated.
---
Add Your Comment:
(Please note: Your name and comment will be public, and may even show up in
Internet search results. Be careful when providing personal information! Before
adding your comment, please
read TheBody.com's Comment Policy
.)