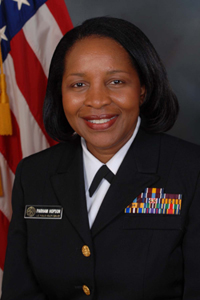 Dr. Deborah Parham Hopson, HRSA.
The Ryan White HIV/AIDS Program is the largest Federal program devoted to a single disease. Every year more than half a million people living with HIV/AIDS in the United States receive treatment. That is the foundation from which our Program is built. The involvement of the HIV/AIDS community continues to be central to our success over the last twenty-plus years of our Program's history.
As HRSA's HIV/AIDS Bureau (HAB) staff began working on our web pages to chronicle the history of the Ryan White HIV/AIDS Program, we knew the story of the individuals that we serve had to be told. There is, of course, no one better to speak about living with HIV or to illustrate the diversity of our Program and the resilience of the individuals we serve than the people themselves.
As such, we created a multimedia video entitled "Living With HIV". In it the individuals served through our Program discuss their experiences in their own words. The video features people from communities across the country talking about living with HIV disease, its associated stigma, and in many ways the extended life expectancy made possible because of antiretroviral medications.
Advertisement
We know in public health that people are more apt to react to prevention and outreach messaging when they can see themselves and the roles they play. The combination of photography, videography, and voiceover to create a truly multimedia product seemed the perfect avenue to achieve this and, of course, the perfect way to hear from each other.
Providers within HRSA's network and beyond are using the video in trainings and support groups across the country to help initiate conversations and break down stigma. And more recently, it was included in a Black History Month presentation conducted at the Department of Justice (DOJ) in order to help educate DOJ employees about stigma, discrimination, and the right to access high-quality health care.
To increase visibility we've added the video to HRSA's YouTube channel and promoted it through our HAB electronic newsletter to our grantee community and other health care providers. One viewer commented that it was "a very inspirational video." In addition, it can be downloaded from our history site.
We plan to continue this tradition and include other consumer videos. Involving recipients of the services of the Ryan White Program and hearing about their concerns enables us to use this information in program planning and is, in fact, a major tenet of our Program and a running theme throughout our history.
A note from the AIDS.gov team: What HIV/AIDS related videos have you made? How do you promote them? Are there other video resources you use to increase awareness of the impact of the epidemic on individuals? Leave a blog comment to share.
Deborah Parham Hopson, Ph.D., M.S.P.H., R.N., R.A.D.M., U.S.P.H.S., is an associate administrator for HIV/AIDS in the HIV/AIDS Bureau (HAB) of the Health Resources and Services Administration (HRSA).