C. Virginia Fields Discusses the Future of NBLCA
By Candace Y.A. Montague

May 2, 2011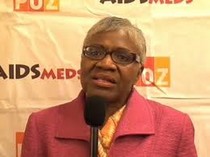 C. Virgina Fields talks about the road ahead for NBLCA. Photo: poz.com.
C. Virginia Fields, CEO of the National Black Leadership Commission on AIDS, is standing tall these days. She can stand tall because her organization is making waves in the fight against AIDS. In an exclusive interview, Ms. Fields explains how NBLCA is dealing with Southern churches, what happened at the conclave held here in DC in April, and what is coming soon from the oldest and largest non-profit of its kind.
NBLCA held a conclave with members of the local government in the DC area last month. What were some of the action steps that were decided upon at the conclusion of this conference?
Advertisement
One of the action steps was to do more organizing at the local level. In Ward 7, there are very high rates of infection. We want to organize all of the clergy in that area to do similar kinds of programs so the needs can be better identified. For example, they have discontinued
needle exchange as a part of a budget approval by Congress
. Now we know how important
harm reduction
is with respect to preventing the spread of HIV.
To eliminate this in DC is a big hit
. We are encouraging the outreach to include what we must do to advocate ensuring that the money is restored and that the national legislation is not repealed because of the impact we know it will have on the fight. The other thing is to work with the government locally in DC. They have started a test and treat initiative to link people to care. We also want to get better education in the schools. Sex education in the schools around HIV/AIDS and other
STD
is important. School is where students identify that they receive their information about sex. Research has shown that students who receive good information may not necessarily stop having sex but they have made better decisions about protected sex. We have complaints from the schools, particularly from parents, that they don't want this information given to the students because it almost encourages the students to have sex.
But when you look at the increase in teen pregnancy, it's not happening by osmosis.
We must arm young people and even old people with the right information about protection. So the clergy wants to take the lead by working with school officials. A full plan of action will be written.
Given the current situation with Mississippi and their legislators' seemingly lack of regard for people living with HIV, what will NBLCA do about reaching the Southern churches?
We are partnering with groups that are already engaged in this area in an effort to expand the work. We recognize that we have affiliates in that structure but the need goes beyond that. So we are now working with some new partners in southern cities including Jackson, Mississppi to establish similar kinds of structures but not necessarily affiliates (that's much more time consuming and labor intensive). We want to organize communities through this process. That can be valuable. We work with the National Baptist Convention to conduct training in the Southern states that will hopefully be taken back to the community. We will continue to work with them. We hope this process will build more partnerships. We are going to work in Baton Rouge [LA], Jackson MS, Birmingham, AL and somewhere in South Carolina (we have yet to determine the city) over the next six months.
Let me say one other thing about the clergy. They get hit for not being as engaged. Some of that is true but a lot of it is not true. A lot of them have been engaged from the beginning. They are speaking from the pulpits more boldly and regularly about HIV not just around World AIDS Day. They are encouraging testing. They are using their churches as testing sites. They are allowing the health department and other groups to use their churches as testing sites. They are not all disengaged but we do need to keeping working with those who aren't involved.
What's coming up next from NBLCA?
We have launched the Thirty Years Strong Campaign. The focus will be on how this disease has and continues to impact the African-American community. We have an online community journal for people who are infected or have been affected to tell their stories. Whether it's legislators or the clergy, putting a face on this disease is very powerful. We find that using those stories will be important for our advocacy training. We want to move people away from complacency (I don't have to worry about that or if I get that I can just take a pill). It's still not curable.
We are also having our annual gala in June. At the gala we are having a Hall of Hope and Remembrance where we honor people who have been affected by HIV. This year we are honoring Arthur Ashe and Dennis DeLeon founder of the Latino Commission on AIDS. It's a hall of fame of sorts. And we are honoring people who are continuing to fight AIDS now. Some will be corporate and some will be individuals. It is a way to keep the progress that has been made at the forefront.
What's your take on the ADAP crisis?
We now have over 7,000 people on waiting list for ADAP in these United States because of budget cuts. This is unheard of. We hear about things like this in sub-Saharan deserts in Africa but not in America. Some of these people may die because the budget has been cut in states such as Georgia and Florida. That's why it's important to keep [HIV] in the forefront for legislators to see. They need to know that just because the media isn't covering it as much doesn't make it any less of a crisis. There's a lot more work that needs to be done.
What would you like to see NBLCA do in the future to help your community's fight against AIDS? Feel free to comment below.
For more information about the National Black Leadershop Commission on AIDS, click here.
Recommended Reading
Local gospel singer teams up with NBLCA to promote AIDS awareness
NBLCA hosts Clergy Day on Capitol Hill
Get e-mail notifications every time Candace's blog is updated.
---
| | |
| --- | --- |
| No comments have been made. | |
Add Your Comment:
(Please note: Your name and comment will be public, and may even show up in
Internet search results. Be careful when providing personal information! Before
adding your comment, please
read TheBody.com's Comment Policy
.)