I remember my first memory at the age of three, unlike some children that have wonderful memories of their childhood mine was a very traumatic one! I was molested by a family member at such a young age. It is hard to open up about this, because it has impacted my life in so many ways. I was a baby, no one is supposed to hurt a child! And the damage stays with you forever!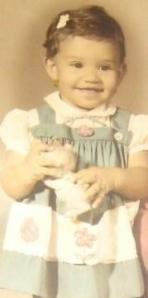 With all of this I had to endure, along with my mother, the mental abuse and verbal abuse of my father throughout all my childhood and teenage years ... this was very hard! The man that was supposed to protect me and love me was a tyrant! Someone who from the age of five, six years old always told me I would only be good to be a whore and I was never going to amount to anything in life! After you hear this for so long, you start believing you are a nothing! And that is what I felt about myself (A NOTHING)! I did not only have to hear this almost every day, but I had to hear my father cursing and offending my mother all the time! If she cooked for him the same type of food twice, he would throw it in her face and tell her the whore of your mother will eat that! I remember being in the dining room table and making sure there was always something big in the center of the table so I wouldn't have to see my father's face.
My mother married very young, she was 18 and my father was 42 years old. He brought her from my country, Colombia, to the United States. She didn't know anyone here, had no family and didn't know the language! A perfect scenario to abuse someone! It was just my mother and I. She would cry so much! And me, as that sad little girl, would try to comfort her by hugging her. I didn't know what else to do. I would tell my mom almost everyday, "How can I kill him?" Imagine that!? At the age of 6!! She would just say, "Please don't say that. I will go to school and I will leave him." My little brother came along, so her school had to be paused! He never wanted her to work or go to school, so it was a perfect excuse for him! He said, "NO MORE school until both kids are in school and you have taken care of the house!" So my mother had to wait! God how much I remember hating my father! I would hear him at night screaming at my mother! And I would would put my little head under the pillow and cry so I wouldn't have to hear him! He affected me so much! And the saddest thing is he does not realize all the damage that he has done till this day!
Advertisement
As the years passed and I started getting a little older -- around 13 or 14 -- I started acting out in school, hanging with the wrong crowd. And my mom was already going to school, but something bad was building inside of me! I wanted to explode! The abuse always continued! It never stopped with my father! I remember when he would go away on business trips we would be so happy for him to leave! And when he returned, it was torture. I hated it!! Isn't that sad? That when your own father leaves you are happy and when he returns, instead of giving us love he abused us. I couldn't even cry in front of him! When he was cursing at me for no reason or at my mother, he would threaten me and say, "IF YOU CRY, I WILL BEAT YOU!" Why couldn't I have a normal dad ? Oh well, that is life! At least I have a wonderful mother!! He loved my brother, though! He always wanted a boy! He had been married like 5 times and had all girls! All of my step sisters went through this with him! And their mothers! We all have been affected by him and they all ended up leaving him!
Sometimes I would hear him say, "Why don't you f**king leave with your daughter, and I will stay with my son!" If he only knew how much this hurt me! I felt unwanted and so hurt, but all of this would come to an end soon!
My mother was afraid of him, and he always threatened her with taking my little brother! She felt she didn't have sufficient funds to take care of us until she had a degree, so I started pressuring her more and more everyday to leave him! I would ask her when she picked me up from school, is my dad home? She would say, YES! I hated it. I immediately had so much anxiety just to know he was home! Because I knew he would start picking at anything and fight fight fight!! In school they started noticing my behavior and they advised I would see a counselor. So as a family, my father agreed and we started going. He would be good for maybe 2 weeks and he would start again! Until one day he stopped going with us. So, it was my mother and I with the counselor. I don't remember what happened that evening, but I exploded and ran away from there! To the streets! A few weeks back I got a little card from school saying if you are abused at home call this shelter. And I kept the card! I ran and ran. It was so dark! it was like I was running for my life. I got to a public phone crying, and called the number. They picked me up and that is when I entered the foster care system, but by that time I was already damaged!
I didn't want anyone to tell me anything! I was full of hate! I became a juvenile delinquent and always ran away from every foster home they put me in! They didn't even want me, because they said I was a bad influence on the other children! So no one wanted me! By this time I had accused my father of all the things that he did and he left back to Colombia! It was the perfect time for me to come back home, right? What I always dreamed of! But it was too late! I didn't want to go back home. I made my mother suffer so much! It's like I became my father! I was abusive to her and to my little brother! I felt so jealous of him! And this is because of what my father did to me, I believe, always he was the good one and I was the bad one! So I would be home for a while and then I would run away again. I was lost in this world!