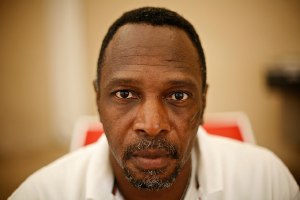 After his HIV diagnosis, Earnest attempted suicide and was in a coma for several months.
For people living with HIV in Mississippi, the stigma surrounding the disease is often more frightening than the disease itself.
Last month, Human Rights Watch released a scathing report documenting the impact of Mississippi government policies that reinforce AIDS stigma. The state, said the report, has pushed people away from care and forced many into social isolation. Mississippi, as a result, boasts one of the highest HIV prevalence rates in the country.
But 2011 could be the start of a new era. The governor's seat and spots in both legislative houses are up for grabs, and Mississippians with HIV are speaking up. Activists from AIDS Action in Mississippi (AAIM) recently held a protest in front of the capitol, a daring move in a state with little history of AIDS activism. This week, AAIM launches AIDSVote, a voter and candidate education project that will hold candidates accountable for their positions on critical AIDS issues.
The Update photographed six brave Mississippians whose lives have been scarred by stigma -- but who have chosen to fight back. Photos by Julie Turkewitz for Housing Works.

Earnest, 51, Hattiesburg Photos 1 and 2
Earnest fought in Desert Storm in 1990 and 1991. After his HIV diagnosis, he attempted suicide and was in a coma for several months. The long scar on his arm is a result of that attempt. Life continues to be a struggle. "I can take the blood, the bullets, the bombs, but I can't take it when people look me in the face and say, 'You've got that thang.' You don't know how many times in the last two, three years I've heard that."
Victoria, 30, Jackson Photo 3
Victoria was abandoned by her parents at a young age and grew up in foster care. When she discovered she had HIV, she convinced herself it was punishment she deserved for time spent doing drugs.
She's been sober since 2008, but hasn't told family members she is HIV-positive. "They'd bury me before my time," she said. "People here don't want to hear about HIV/AIDS. The stigma is so bad, people feel like, 'If I touch you, I'm gonna get this.' Or, 'If I'm gonna eat after you, I'm gonna get this.' And I feel like the government needs to step up and help us more than they are."
David, 42, Biloxi Photo 4
David's mother kicked him out of the house because he is gay and has HIV. "She wouldn't even hug me for a long time," he said. David is a triplet, and his brother, Daniel, died of AIDS in 2002. Daniel never sought care and hid his HIV status from most people.
Jackie, 28, and her daughter, Iyanla, 8, Jackson Photo 5
Jackie has not found a way to explain HIV to Iyanla. "She's my baby, I will have to, but I just don't know how yet. She'll go to school, run her mouth. There's a lot of discrimination."
Tony, 29, Hattiesburg Photo 6
Tony is not HIV-positive, but works at the AIDS Services Coalition, an organization that serves about 300 people a month. As part of his job, he teaches families about the virus and tries to debunk scary myths. "The families we've taught about HIV, they've re-accepted their family members." Still, he said, there is not enough HIV education in the state.
Mouneat, 37, Fayette Photo 7
"[In Fayette] they won't shake your hand," said Mouneat. "When you try and do it, they look at you from head to toe." Mouneat traveled to Jackson for AAIM's March AIDS conference. She's been afraid to tell people at home she's HIV positive, and she said the conference empowered her. "Here I feel comfortable. I'm here to learn to be an activist."