Med Changes and Hope
Sunday, Apr. 10, 2011
Posted: April 2011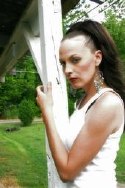 Autumn Preusser
"I'm a 31-year-old transsexual woman living in rural Arkansas with my boyfriend of five years. I enjoy dancing and music, and I really like photography. I am disabled and on SSI (Supplemental Security Income). Right now I'm just learning to live with HIV."
Well, I started the Norvir (ritonavir), Reyataz (atazanavir) and Truvada (tenofovir/FTC) combo on March 2nd. I stayed on that combo for a month. The side effects, mostly fatigue and nausea, were a constant. I'm sure the Bactrim (co-trimoxazole) and Zithromax (azithromycin) didn't help. Emotionally it got to be kind of hard ... the first week wasn't too bad but after that with the constant nausea and fatigue, I started feeling pretty low. The toll it was taking on me made me have all sorts of feelings. I began wondering what I was doing. At that point I felt better before I started the meds than I did while on them. I just assumed that it was something that I was just going to have to get used to.
I had another doctor appointment on March 30th where I got more labs drawn, and we talked about how I was doing on the meds. We talked a lot about the nausea and apparently vomiting 10-20 times a month is not acceptable. We decided to keep taking the Reyataz and Truvada, but without the Norvir. Since the Reyataz was no longer boosted we increased the dosage of it up from 300mg to 400mg.
So far so good on this combo. Hopefully they will do their job and my counts will reflect that.
It was at my last doctor appointment when we started talking about how I was feeling that my doctor assured me that being on meds didn't have to be that way. I could be on meds and feel good, we just had to find the right combo. I was so relieved when I realized I didn't have to feel bad to combat HIV. It was so relieving to know that the Doc would work with me and I wasn't alone in this.
I think I am still trying to accept HIV as a part of my life now. I'm still pretty new to life with HIV and right now it's the biggest part of it, I think it will continue to be for some time to come. I'm OK with that.
---

This article was provided by TheBody.
---
Comment by: Stephen
(Long Islnad, NY) Tue., Dec. 27, 2011 at 3:27 pm UTC
I just wanted to say that I never read a blog about someone life and being HIV+. First I wanted to say that your blog is well detailed and a great read - are you a writer!?!?! Cause you def have a lil career here :)
Thanks for sharing, your post are so heartfelt and exactly how I would feel (i guess) if I were infected and was telling my feelings to someone. At the same time they are inspiring because you give in detail how you are getting through it.
God bless you!!
Comment by: Serbia
(Lesotho) Mon., Sep. 5, 2011 at 8:53 am UTC
i have never felt this lonely, its been a year and nobody knows, i plan to keep it that way; i am fine with people not knowing though.
Comment by: Kim
(AZ) Sat., Aug. 6, 2011 at 2:20 pm UTC
Hi Autumn I really enjoy your blog. How are you doing? Please update us soon.
Kim
Comment by: Ivan88
Thu., Jul. 21, 2011 at 6:03 pm UTC
Hi Autumn, how does you meds change work, do you feel better?
Comment by: -S
(Fort Lauderdale) Fri., Apr. 22, 2011 at 10:09 am UTC
Autumn,
Thank you so much for chronicling your journey. I tested positive about a month before you and reading your story I felt as if I'm reading my own. I've sat in the office today and shed tears of empathy because I understand exactly how you feel. All we can do is hope that each day gets a little easier and that perhaps someday there will be a cure.
Add Your Comment:
(Please note: Your name and comment will be public, and may even show up in
Internet search results. Be careful when providing personal information! Before
adding your comment, please
read TheBody.com's Comment Policy
.)