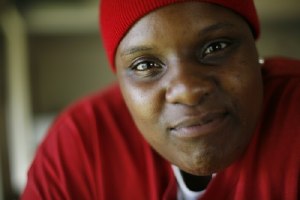 Brown at this week's AIDS activist summit in Mississippi. Photo by Julie Turkewitz for Housing Works.
Jackson, Miss. -- On the heels of a Human Rights Watch report that documents the dismal state of services for people living with HIV/AIDS here, a small but defiant group of activists gathered this week for an annual AIDS activist summit.
"It took me years to accept that I was positive, but now I'm coming out, and I'm saying 'Either you're going to accept me or you're not,'" said Victoria Brown, 30, of Jackson. "I want to become an advocate ... I want to be able to carry a message and try to stop the spread of HIV/AIDS."
The summit, sponsored by AIDS Action in Mississippi, a grassroots organization of people living with HIV/AIDS, has grown steadily in recent years. The expansion is a sign of mounting frustration with the state government, which many participants said has nearly ignored its HIV-positive population.
In early March, Human Rights Watch released a report that says that Mississippi has resisted effective approaches to HIV prevention and treatment, instead supporting policies that promote discrimination and stigma, fueling one of country's highest AIDS rates. The extreme stigma surrounding HIV is, for many, more frightening than the disease itself, says the report.
At the summit, the approximately 30 activists laid out an advocacy plan for 2011. They will urge policymakers to implement comprehensive sex education across the state; ask them to make a plan for finding long-term affordable housing for low-income people with HIV/AIDS; demand that legislators and health officials combat stigma; and ask that they address women's issues.
Ultimately, the activists want the state to create a comprehensive plan to fight HIV/AIDS.
Advertisement
At the gathering, participants painted a picture of place in which HIV-positive people live in constant fear of rejection by family, friends and strangers; suffer frequent discrimination; and encounter daily ignorance based on HIV status.
David St. Amant, 42, lives Biloxi. His mother kicked him out of the house because of his HIV-status, and he found himself homeless. "She didn't like that I was going to church and HIV-positive," he said. "She wouldn't even hug me for a long time ... I just wish she'd learn more."
Levi Payton, 57, of Hattiesburg, was denied work at a fast-food restaurant after he tested positive. When he finally found employment, a coworker told him he should be quarantined. "I felt like I was some kind of alien from a different planet, I just felt different," he said.
Brown is disabled, and does not know where she will live after May 1. Unlike almost all other states, Mississippi has no long-term housing program for low-income people living with HIV/AIDS. She is scared to tell her family that she has HIV.
"People here don't want to hear about HIV/AIDS," she said. "The stigma is so bad, people feel like 'If I touch you, I'm gonna get this. Or 'If I'm gonna eat after you, I'm gonna get this.' And I feel like the government needs to step up and help us more than they are, I just feel like Mississippi needs a lot of help. And that's why I'm here."
AIDS Action in Mississippi is an affiliate of Housing Works.