Monday Reflection: Never Suffer in Silence ...
By Rae Lewis-Thornton

April 4, 2011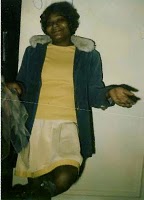 Mama.
This piece originally appeared in Rae's blog, Diva Living With AIDS.
One early morning Mama woke me out of my sleep. I thought I was dreaming at first, "Rae, Rae, get yo ass up and find my brush." I looked over at the clock, it was 5:00 a.m. I took a deep breath and started to crawl out of the bed. "Bitch, didn't you hear me? Get yo ass up and find my brush."
I walked into Mama's room, "Huh, Mama?" I whispered. "Find my brush. I know yo ass had it!" She demanded. Without a single word, I wiped the sleep out of my eyes and I started searching for Mama's hair brush. I knew if I couldn't find it or didn't find it fast enough this could mean a beating. The pit of my stomach tightened. I was methodical in my looking. I knew I had to find it and fast.
This was no time for emotion; I had to keep a clear head or that was my ass. I searched and searched but no brush. "Bitch, what's takin you so long?" Mama hollered. "Mama, I don't see it," I pleaded. "Maybe it's in your purse," I suggested. "Bitch! I looked in my purse! Find my motherfuckin brush!" She screamed.
I took a deep breath and made my way to the dresser where she was standing. I started looking through her top dresser drawers. Before I knew it, I could feel the cold water from her glass in my face. "Bitch, find my motherfuckin brush." My warm tears met the cold water. I knew what would be next. But I had looked everywhere. I had no idea where her brush was. I had searched every inch of the house.
Advertisement
She must have overlooked it in her purse, I thought. "Mama, did you look in your purse?" I mumbled. "Bitch, it ain't in there," was her response. I was truly at a loss. I had searched our apartment high and low. I knew the outcome of this was not going to be good. The only thing I could come up with was that she must have overlooked it in her purse.
So I had to go ahead and defy her and look for myself. If I didn't find it, I was gonna get a beating and if I looked in her purse I was gonna get a beating, so I had to do what I had to do. At 13 I had figured out most of Mama's moves. When I should have been playing with Barbies, instead I had become an expert at survival.
I picked up Mama's purse. "Bitch, I told you it wasn't in my purse!" I ignored her and kept looking. Slowly, I pulled the brush out of the purse. I handed it to her. She stood there with her hands on her hips. "Oh, I thought you had it." And then she turned away and finished dressing for work. I went back to bed and cried silent tears.
A couple hours later, I got up and dressed for school. That's what I did everyday. I suffered through the abuse and I kept it moving. I never seemed to miss a beat. From the outside looking in I was a well kept child in a working class family. All appeared well and right with the world.
Yes, I was well kept, but the abuse in my house outweighed any meal that I could have ever been fed. Looking back, I wonder how I did it year after year. Suffering through the silence of my abuse and I didn't lose my mind. Nor did I turn to drugs and alcohol as an escape. I just kept on going.
But the truth of the matter, in my house we were told to NEVER talk about family business. What happened in our house stayed in our house. To break the code of silence could render you the worst beating ever. And any beating that was talked about was sanctioned under the concept that "whippings" were OK. Whipping helped to maintain control. It is the sick Slave-master method of control that was carried down in Black families from slavery, year to year. But in many cases, there was a thin line between abuse and discipline and many of our families crossed that line in the name of discipline.
Other then staying out of Mama's way, where I spent hours in my bedroom reading, my escape from this abuse was church. That was my refuge. Church for me was an escape and a safe place. No one called me out of my name, and it provided me a place away from Mama. She was extremely strict, however she never interfered with church, even though she didn't go herself.
But even at church I didn't tell. I kept the secret. Many years later after I started speaking publicly about my life, my former pastor's wife asked if she had failed me. I was coming to church every Sunday, staying most days until they locked the doors and she had no idea that I was an abused child. I told her no because it was a safe place, without judgement. Even though I was super hyper, no one ever told me to sit my fast ass down or talked about me, they just provided activities that would channel my hyper-activeness productively.
In the Black family, there is some code of honor about silence, some glory in discipline. We are quick to tell our children, Ima beat yo ass. But at the end of the day, how does a child grow without being damaged and bitter. I loved my Mama, but I didn't like her until the day she died.
I grew up confused and feeling rejected and that all fostered low self-esteem. I had to learn what was healthy and normal. But by the time I had done so, it had already caused so much damage to me and led to my HIV status. I was always looking for love. Yes, choosy, looking for the best, brightest, and richest I could find, but that didn't exempt me from AIDS.
Now that I have gone public with it ALL there is no turning back for me. I get a lot of criticism for my provocative, transparent and, some would even say vulgar, honesty about life, dating and sex.
But I lived in silence for years as an abused child and that silence led to my silence around my HIV status as a secret for years. Now I will never suffer in silence again. NEVER!! I don't quite care how you feel about my approach. I don't keep family secrets that hurt! I will not lie because you cannot handle the truth. I will never suffer in silence again.
Post Script: April is both Child Abuse Awareness and Sexual Assault Awareness Month. I will be giving you insight into my life. I will be talking about rape and childhood abuse in my own life. The damage childhood abuse (emotional, physical, sexual) as well as sexual assault have had on my life. I hope my transparency will give you insights on how I have coped with it all and how I have been able to see resilience on the other side of abuse.
Get e-mail notifications every time Rae's blog is updated.
---
Add Your Comment:
(Please note: Your name and comment will be public, and may even show up in
Internet search results. Be careful when providing personal information! Before
adding your comment, please
read TheBody.com's Comment Policy
.)