Wednesday, Dec. 22, 2010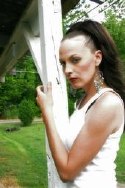 Autumn Preusser
"I'm a 31-year-old transsexual woman living in rural Arkansas with my boyfriend of five years. I enjoy dancing and music, and I really like photography. I am disabled and on SSI (Supplemental Security Income). Right now I'm just learning to live with HIV."
This morning started off normally. I kissed the BF goodbye, and talked to him on the phone while he was on the way to work. But when we hung up, I started feeling horrible.
I'm so nervous and anxious. I don't really know what to do with myself now.
The last week or so has been horrible. I'm either extremely anxious and nervous or totally wiped out and exhausted. I don't think any of it has anything to do with being "sick." I think it's just the stress of the whole situation taking its toll on my body.
I don't want to deal with this anymore. It isn't fair. I just want my life to go back to normal.
I don't really know what to do. I'm lost, confused and afraid!!! I feel like I'm just going to wake up and all of this will have just been a horrible nightmare.
I feel so desperately alone in all of this. I'm not saying I don't have support and people who love me, because I do. I just feel like they don't have a clue what I'm going through. Hell, I don't even have a clue what's going on. I just feel like this HIV thing has isolated me and put me just out of reach of everyone else. If that makes any sense. I just don't feel like I belong anymore. I don't feel like I'm a part of anything anymore.
Just feeling lonely,
Autumn
(Please note: Your name and comment will be public, and may even show up in
Internet search results. Be careful when providing personal information! Before
adding your comment, please
read TheBody.com's Comment Policy
.)