Tuesday, Jan. 11, 2011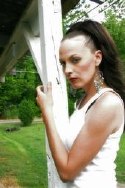 Autumn Preusser
"I'm a 31-year-old transsexual woman living in rural Arkansas with my boyfriend of five years. I enjoy dancing and music, and I really like photography. I am disabled and on SSI (Supplemental Security Income). Right now I'm just learning to live with HIV."
It's been a while since I've posted anything. So, I figured it was time.
Things have been up and down lately. I retested for HIV and of course it came back positive. I guess I was kind of hoping that there may have been a mistake.
I guess that kind of made me lose a lot of hope for a while. Things felt sort of "final." I have HIV, I'll never be rid of it. I guess right now I'm working on accepting that. It's not easy and some days I want to scream and cry but, I'm moving forward.
That's what it's all about now. Moving forward. It's easier said than done. Some days I just want to lay down and die, but I can't. I push and scrape along but I do it.
I'm still scared. I don't want to get sick. I don't want to die. BUT I also realize that everyone gets sick and everyone eventually dies. It's no different for me than it is for anyone else.
I started chatting in a chat room on Yahoo! HIV/AIDS. The people there are nice. It's nice to talk to people like me, people who act just like everyone else in the world. It's nice to know that life goes on and things can be normal. Life is what you make of it.
It's only seven more days until my appointment with the HIV specialist. I'm nervous but ready to see him. Being well informed is half of the battle.
I am STILL waiting on the packet they are supposed to send me. I don't know what the deal with that is. I'm going to call them later today to find out.
That's really all I have now. I'll update more later.
Autumn
(Please note: Your name and comment will be public, and may even show up in
Internet search results. Be careful when providing personal information! Before
adding your comment, please
read TheBody.com's Comment Policy
.)