Saturday, Jan. 22, 2011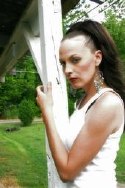 Autumn Preusser
"I'm a 31-year-old transsexual woman living in rural Arkansas with my boyfriend of five years. I enjoy dancing and music, and I really like photography. I am disabled and on SSI (Supplemental Security Income). Right now I'm just learning to live with HIV."
Well, my first doctor appointment was rescheduled.
The doc apparently had a death in the family. My heart goes out to him.
I'm learning that all of this is going to be a huge waiting game. I hate waiting.
I've been sick for two or more weeks. Cough, sinus headaches, fevers, chills. Been through two rounds of antibiotics and lots of steroids.
This round of meds may do it, though I'm starting to feel a little better.
I'm ready to know my CD4 count and viral load; at least then I will know what I'm working with and what I need to do.
I really won't know anything until this appointment with Dr. Abraham. It is for the 26th of January, this coming Wednesday.
I really don't know what to expect for this first appointment, what they will do or anything. I hate being in the dark.
Well, it's only a few more days to go, then we will know.
I'll keep y'all posted.
Lotsa Love,
Autumn
(Please note: Your name and comment will be public, and may even show up in
Internet search results. Be careful when providing personal information! Before
adding your comment, please
read TheBody.com's Comment Policy
.)