The First Few Months: A Transgender Woman Faces an HIV Diagnosis in the Rural U.S.
Posted: April 2011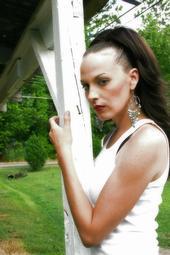 Autumn Preusser
On Dec. 10, 2010, Autumn Preusser found out she was HIV positive. Almost immediately, she began channeling her feelings of confusion, frustration and loneliness into a blog she created on Blogspot. The result is reposted here in its entirety. It's an honest, detailed chronicle of an experience all HIV-positive people share, and each person goes through in her or his own way: the first few months of learning to live with HIV.
Table of Contents
More From This Resource Center
---

This article was provided by TheBody.
---
Comment by: Woaini
(San Francisco, CA) Tue., May. 22, 2012 at 2:26 pm UTC
What makes you decide to go get tested? Were you feeling sick or?
Comment by: roy
(oregon) Wed., Jan. 11, 2012 at 2:24 pm UTC
i would still make love to you and be with you it should never change how you feel about someone
Comment by: joe
(waterbury,ct) Sat., Oct. 22, 2011 at 9:51 pm UTC
autumn is a couragouse inspiring lady
Comment by: myloe t.
(milwaukee, wisconsin) Mon., Aug. 1, 2011 at 11:28 am UTC
i was diagnosed two years ago and i had those same thoughts.My boyfriend tested negative and those same things went through my head.My cells were gone(44)now i have 805 and undetectble.I had to deal with alot of bs too...like my boyfriend went and told all his friends.Then some of my family told people,so i started telling people so that i wouldn't feel shitty.The main thing that keep me going is my team...im gonna make it and so are you.Keep the faith lovey!Oh yeah i had it 10 years before i found out at 28 im 30 now.I thought i was gonna die every time my stomach got a pain i cried and the man that was suppose to love me wasnt there.He got married behind my back.
Comment by: juan
(Orlando, fl) Fri., Jul. 22, 2011 at 2:06 am UTC
I WISH THE BEST TO YOU AUTUMN GOD BLESS YOU
Comment by: Yvonne
(Sayreville, NJ) Tue., May. 31, 2011 at 7:27 pm UTC
To all the people out there living with AIDs/HIV, stay strong and continue to live life as you did before or best you can. I know it is hard to move on and have the life you had before. I lost family and friends to AIDS/HIV, not becuse of the virus, but because they gave up,which include drug usage, isolation, and trying to hide the virus.Talk to your family and friends, more than likely, you will find that they are more accepting than you think. I was afraid of AIDs, until my family and friends contracted the virus, but thats because I didn't understand. I spent more time with them than I ever did before and thank God I got the chance too tell them that I loved them, because they were good people with or without the virus.
Comment by: Reginald
(Accra) Sun., May. 29, 2011 at 8:04 pm UTC
I was diagnosed positive for HIV type 1, just 12 days ago.It is a sobering experience.I was at first worried about my partner, luckily she is negative. I am blessed because she has been most supportive and loving. She is worried for me and wonders is I would get sick and lean and probably die. I have told her I would live. I would not be sick. I am determined o take my drugs when they are prescribed. Somehow I am still coming to terms with this situation. I am greatly consoled by the comment by John on May 12( incidentally that was the day I was diagnosed.Because of my society and nature of my work, I can not even tell anyone about this except my partner or the stigma would be much. People I need support on how to live with this without it feeling so bad.
Comment by: john
( ireland) Thu., May. 12, 2011 at 6:53 pm UTC
You are very brave,they are coming out with new drugs every year to keep the virus in check, and i believe sciencetists are very close to finding a cure for HIV,Best of luck.john.pS you should try to find a doctor who deals specically with HIV patients.
Comment by: Chuck
(South Africa) Thu., Apr. 21, 2011 at 2:42 pm UTC
Remember that Autumn is the most Beautiful season and always perennial!!
(I've experienced 112 seasons and still going and growing stronger every day!)
Blessings on you.
Comment by: Melanie
(Jonesboro, AR) Fri., Apr. 15, 2011 at 6:44 pm UTC
Autumn is my sister and I am so very proud of her!! She is a wonderful person. Growing up together we were very close and I thought that she was probably the best little brother I could ever have. I am not going to lie and say that I wasn't a little upset when I found out that he was gay- but it is not for the reasons that you may think. I knew how hard life would be for her. If I am confusing you by going back and forthe between saying brother/sister/him/her, then I'm sorry - my sister has been my sister for several, several years now, but she used to be my brother, and either way she has my heart. I hope that people can understand that, but I really don't give a damn what any of you think. I can only hope for the best for her, and be there when she needs me. She has HIV, and we will deal with that one day at a time- easy for me to say, I know. It truly breaks my heart for her, and me, she's my only sister!!!
Replies to this comment:
Comment by: L.S.
(North Dakota) Sun., May. 8, 2011 at 11:34 pm UTC
I know exactly what you mean. One of my best friends is a transgender woman who, when I met her, was still living as a male. I find myself using "he" or "him" when describing earlier events in her life, and "her" and "she" when talking about her now. I work in a job where I interact with many people from ALL types of backgrounds and lifestyles, and as a general rule I respectfully address a person as whichever gender they are PRESENTING to me at the time. Even in the case of a cross-dressing individual who may come in as a man one day and a woman the next. (Obviously I do know the difference between transgender and cross-dressing, this was just to make my point.)I address the individual as the gender they wish to present, and respect them as such. The only people who may be confused by the varied use of pronouns simply dont understand. After all, the body is only a vessel which houses the soul, and the soul is what is important. I read your sister's writings and she is a beautiful and strong person and lucky to have so many supportive people in her life. You SHOULD be proud of her, and I'm sure you will stand beside her throughout her journey. I wish your whole family the best.
Comment by: Paxy
(Oregon) Tue., Apr. 12, 2011 at 9:48 pm UTC
Autumn,
You are not alone girlfriend we have been there done that...btw excellent article
Add Your Comment:
(Please note: Your name and comment will be public, and may even show up in
Internet search results. Be careful when providing personal information! Before
adding your comment, please
read TheBody.com's Comment Policy
.)