My Positive Living Conference Experience
By Robert Breining

March 23, 2011
From March 10-13, I had the pleasure of presenting a workshop at the Positive Living 14 Conference in Fort Walton Beach, Florida. I was very excited when my abstract was accepted by OASIS (Okaloosa AIDS Support & Informational Services). I was told all about this amazing conference beforehand but what people told me about it didn't hold a candle to what I experienced. There were 433 attendees and 206 of them were first-time attendees. I was one of the first-timers. I have never been at a conference where most of those who attended were HIV positive. I was told out of the 433 attendees, 95% or more of them were HIV positive. Just knowing that allowed you to let your guard down and just be yourself. When I arrived at my hotel and walked out my back door, I was blown away by the beautiful beach. It looked like a postcard. I knew from that moment that this conference was gonna be a great experience.
On Friday morning at 8am I attended the Activate U workshop led by Butch Mckay, Jesse Fry and Rick Vitale. There was a feeling of magic in the air when I walked into the first workshop. The workshop began at 10am and started off my showing a film called
Bloodlines
. I have to say that seeing this film was one of my favorite parts of the entire conference. The
Activate U Advocacy Academy
is a program funded by the National AIDS Fund to promote grassroots advocacy training in north Florida. Activate U under OASIS provides workshops throughout northern Florida that teaches the basics on how to effectively advocate on HIV/AIDS issues and how to locate, properly write, or contact elected officials for your district.With the ADAP crisis a huge issue in Florida this was a great workshop to start off with. Of course I was happy to see Dab Garner founder of
Dab the AIDS Bear Project
there spreading his 30 year message of Hope.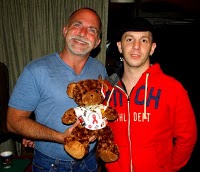 Since I'm passionate about the AIDS Drugs Assistance Program waiting lists, at 3:45pm I attended the ADAP Crisis workshop that was presented by my friend and fellow
ADAP Advocacy Association
board member,
Brandon Macsata
. This workshop was amazing despite Brandon missing his flight and presenting it via telephone. I am not surprised at all. Brandon is such a great speaker. With the ADAP waiting lists reaching over 7,000 people this workshop brought out so much passion in those that attended. I think the one thing that shocked me was that the ADAP waiting list has grown over 900% in the last year. That is not a typo -- over 900%. At one point a woman stood up and shared her personal story of losing her husband to this disease and not having medications to save him. I think when she finished there wasn't a dry eye in the house. Everyone offered hugs to her when the workshop finished.
Redd
.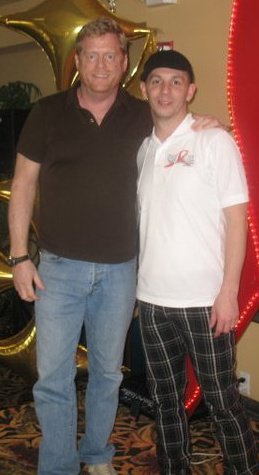 Saturday Morning came early ... I woke up at 7am to get some breakfast before attending
Mark King's
workshop --
My Fabulous Disease
. I wasn't missing this workshop for anything. I knew it would be humorous, touching and educational throughout the 90 mins. Mark has an amazing way of connecting with people when he speaks. The man is a true advocate and is someone who I strive to be more like as I continue to get my feet wet in this whole speaking arena. There were times when people were falling out of their seat laughing and times when it was so emotional the room became silent. We could of heard a pin drop at points. Everyone was so captivated they were sitting on the edge of their seats and hanging on his every word. For some it was the first time they laughed in a long time. Humor helps people deal with difficult issues. Mark not only shared his story but also shared the history of HIV/AIDS with us all. If you have never visited
My Fabulous Disease
then I highly recommend that you do.
After that there were two workshops I wanted to attend that started at 10:15am. I first sat in on
Sean Strub's
workshop on HIV Criminalization. Sean is the founder of
POZ magazine
and is currently involved with the
Positive Justice Project
. This is a very important topic that all people living with HIV/AIDS should be concerned about. The laws are different from state to state and it makes it confusing for many HIV positive people. The worst part about it is that some HIV positive individuals are being sentenced to 20+ years in jail without even passing the virus to another person. They are being prosecuted for not disclosing their status or for spitting on someone. Even though HIV can not be transmitted through saliva. In 2011 people should be educated enough to know how the virus is transmitted and how to protect themselves.
I then realized that my friend
Cathy Robinson Pickett
was also doing a workshop at the same time so I ran up 6 flights of stairs to catch the end of her presentation. Her workshop was on HIV and Domestic Violence. Cathy hosts a podcast called
Straight Talk with Cathy
. You all should check out her website and podcast.
---
Add Your Comment:
(Please note: Your name and comment will be public, and may even show up in
Internet search results. Be careful when providing personal information! Before
adding your comment, please
read TheBody.com's Comment Policy
.)