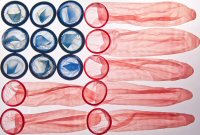 In Mississippi, police demand AIDS educators remove a threatening bowl of ... condoms.
As a field organizer at AIDS Action in Mississippi, Versher galvanizes his community to push for AIDS policy changes that create a healthier state. He's been living with HIV for more than 20 years.
Earlier this month, a group of HIV/AIDS activists went to the Mississippi State Capitol to discuss the need for the state to move forward in its fight to end the AIDS epidemic. The event took place one day before Human Rights Watch released a scathing report detailing the appalling conditions for people living with HIV in this state.
I was among the activists at the Capitol. During this lobby day, several organizations displayed pamphlets, flyers and other information about HIV/AIDS and other STDs. Among the items displayed sat a bowl of condoms, which was supplied by the Mississippi State Department of Health.
This simple bowl of condoms whipped up an astounding controversy. Unsatisfied observers quickly placed calls, and an unidentified representative approached a member of our group. He said, (and I paraphrase):
"Do you realize where you are? You are in the great state of Mississippi Capitol, and such a display [the condoms] is offensive."
Minutes later the capitol police was dispatched, and the chief of police was standing in front us. The condoms could not be displayed, he said, and had to be removed. Immediately. To ensure that they were not shared again, additional police officers were stationed close by.
Advertisement
We at AIDS Action in Mississippi find this action -- not a bowl of condoms -- offensive.
Mississippi has one of the highest HIV/AIDS rates in the nation. We are number one in teen births. Our young people contract syphilis and chlamydia in alarmingly high numbers. And just half of those who test positive for the virus actually seek treatment, a number comparable to rates in Botswana, Ethiopia and Rwanda. Much of the fault lies with the government: In its report, Human Rights Watch affirmed that "thousands of Missisippians are at risk for HIV, and many who are infected are denied lifesaving measures and treatment because of counterproductive state laws and policies."
Counterproductive indeed. We are facing a major public health crisis in this state, but the capitol police can't tolerate a bowl of condoms. How can the great state of Mississippi address our problems -- rising teen pregnancies, dismal HIV testing rates and care -- if we cannot openly display condoms? How can we fight stigma and discrimination if the police -- the symbols of authority -- arbitrarily prohibit basic prevention? How will the great state of Mississippi begin to address the lack of adequate housing for people living with HIV/AIDS if they find it offensive to pass out condoms?
Now, if the state would just tackle these issues the way it poured resources into removing a simple bowl of condoms, we may have a chance to end this epidemic.
AIDS Action in Mississippi is an affiliate of Housing Works.