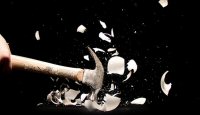 Bloomberg Administration moves to shatter the safety net for people with AIDS.
Looks like the Bloomberg administration will use the same tactics as last year to try to dismantle the HIV/AIDS Services Administration, the agency that acts as the critical safety net for low-income New Yorkers living with AIDS.
In a City Council welfare committee budget hearing today, Robert Doar, commissioner of the city's Human Resources Administration, said he would try to legitimize a huge staff cut at the AIDS administration by counting non-HASA case managers in the number of case managers who support HASA clients.
Advertisement
"Commissioner Doar is employing the same useless argument to justify cuts to HASA's case managers," said Kristin Goodwin, Housing Works' director of New York City policy and organizing. "Bottom line -- no matter what theories or excuses he uses, people with AIDS in NYC will lose their services if this cut goes through. HASA will be annihilated."
During the hearing, Doar also admitted that his agency is not in compliance with Local Law 49, a city law that dictates the services HASA must provide to its 45,000 clients. That law requires HASA to maintain one case manager for every 34 cases. The strict ratio is protected by a federal court order issued in 2001, after a class action suit brought by Housing Works.
"Due to attrition and other factors ... we are a little bit off of our required compliance," Doar said. "And we are working to get back to our compliance."
Bloomberg first attempted a massive staff cut at HASA last year, when he proposed eliminating 248 of the agency's case managers. At the time, representatives from his administration argued that case managers at supportive housing agencies -- like Housing Works -- could be counted as HASA case managers. Advocates for low-income people living with AIDS, however, have explained repeatedly that HASA case managers and supportive housing case managers serve very different purposes, and that both are necessary.
While case managers at nonprofits can offer psychosocial support and other help, only HASA case managers can legally fill out paperwork for benefits like food stamps, Medicaid and public housing programs.
Last year, HASA case managers avoided the chopping block only after Housing Works sued, and a judge ruled that the cut violated a federal court order. City Council then swooped in to use its own discretionary funds to pay for the HASA case managers. In this year's proposed budget, Bloomberg once again failed to restore funding for HASA's case managers -- and their fate is up in the air.
What's unclear is how much City Council would have to cough up if it saves the case managers again. Last year, City Council paid $4.2 million to fund the case managers. This year, the Office of Management and Budget lists the necessary restoration of funds at more than $8.5 million. While a representative from Doar's office said the mix-up appears to be a bureaucratic error based on last year's budget proposal, the representative also said his staff has not made a request for a change back to $4.2 million.
While HASA clients and advocates for New York's poor have long been critical of HASA's inefficiency, the same people recognize the crucial role it plays in linking people to lifesaving services. "Without HASA I think people with our kind of health issues, well we'd be in pretty bad shape without them," said Shelton Holt, a 53-year-old client of the agency.
When he came to the city in 2001 after nearly 12 years doing drugs on Baltimore's streets, he sought help from HASA. A case manager signed him up for food stamps and sent him to Catholic Charities, which helped him move out of a shelter and into the one bedroom Brooklyn apartment he lives in today.
As a result of this stability, Holt's been sober for eight years. He's been working the same wallpaper-making job for five. He can't imagine what he would done if his case manager hadn't helped in those initial dark days.
If the case manager staff is slashed, "It's gonna be messed up," he said. "And people are gonna be falling through the cracks."