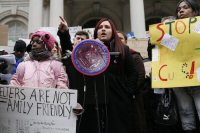 Advocates for NYC's poor rail against Bloomberg's 2012 budget.
More than 200 activists for New York City's low-income residents filled the steps of City Hall this morning, railing against Mayor Bloomberg's deep cuts to an already battered social safety net.
Snow fell as a ralliers huddled together to explain how cuts would impact their lives. "I can't get NO-O public housing," they sang, evoking the Rolling Stones. "I can't get no break in this town. And I try, and I try. I can't get NO! I can't get NO! No. No. No."
Advertisement
Among the cuts are
several
that will affect people living with HIV/AIDS. Bloomberg's budget fails to restore nearly $1.5 million in funding for supportive housing for homeless people living with HIV/AIDS. It also fails to restore funding for 248 case managers at the city's HIV/AIDS Services Administration, a move advocates for the poor say will eviscerate the agency.
"Its seems like for Mayor Bloomberg, for Deputy Mayor Linda Gibbs, for [Human Resources Administration] Commissioner Doar, HASA has a giant bull's-eye around it," said Sean Barry, executive director at VOCAL-NY. "They've forgotten that AIDS is still a crisis. They've forgotten that low-income people with AIDS participating in this program are one step away from homelessness, hospitalization, emergency rooms."
Wayne Starks, a formerly homeless Brooklynite and a board member at VOCAL-NY, stood before the crowd and explained how his HASA case manager has linked him to critical services like Medicaid,
"I'm angry, Mayor Bloomberg," Starks said. "He has the nerve to make cuts when we're already stretched to the brink."
Protestors also blasted Gov. Andrew Cuomo, whose state budget yanks state contributions from city shelters and the Advantage program, a work program that helps low-income people stay out of the shelter system.
Seth Diamond, commissioner of the city's Department of Homeless Services has already announced that the department will shut down the program if Cuomo doesn't provide the state's $95 million contribution to the program. In the coming year, the program's termination will result in at least 4,000 additional families in the shelter system, Diamond said in a hearing after the rally, requiring another 70 city shelters.
The rally took place minutes before the city welfare committee budget hearing, in which city councilmembers questioned the heads of city social service agencies on how the mayor's budget cuts would affect New Yorkers.
"These cuts are atrocious," said Councilmember Annabel Palma, a long-time social services advocate, during the rally. "These cuts dig into the heart, the core of what we need to do as New Yorkers to survive."