My Fabulous Disease
The Hard Facts on Erectile Dysfunction: Pills, Pumps and Prosthetics

A Video Blog
By Mark S. King

March 31, 2011
I suppose it was only a matter of time before HIV fitness guru and hottie Nelson Vergel and I ended up in bed together. After rummaging through my kitchen in a video blog about healthy eating, and then baring our biceps at the gym when he instructed me on weight training, it really was just a matter of time before the proximity was more than he could bear. The man is only human, after all.
Alas, our queen-sized romp was clothed, comical, and quite chaste. It just seemed like the obvious place to start a blog about erectile dysfunction (E.D.), testosterone replacement, and how all of this affects people living with HIV/AIDS.
Episode 32 -- The Hard Facts on Erectile Dysfunction: Pills, Pumps and Prosthetics
You're about to get a big education on erections. Well, on the lack thereof, to be precise. The content isn't porn but it is very adult. If your workplace wasn't a great place to watch my recent video tour of a poz sex club, then you'll probably want to catch this one at home, too. Just don't miss this "impotent" information. (Sorry. Couldn't resist.).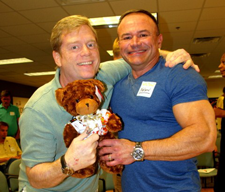 "Mark and Nelson with Dab the AIDS Bear." Photo credit: Dab Garner
Besides writing his new book, Testosterone: A Man's Guide, Nelson has gathered an impressive amount of information on what causes E.D., what the treatment options are, and what issues become a factor when you throw HIV into the mix. (I did some research of my own, and found this hilarious candid camera video about an "erection spray" that has immediate, sizable results.)
Every treatment and factoid on E.D. is here: pills, pumps and prosthetics (oh my!). Mostly, though, just hearing Nelson repeatedly say "erectile" in his adorable Venezuelan accent is worth the 10 minutes it takes to watch this.
Nelson mentions some great resources and here are some links. His book is available on Amazon, his non-profit is known as PoWeRUSA and has a web site of its own, and he offers resources on identifying a doctor familiar with testosterone replacement on his web page devoted to the topic.
As always, thanks for visiting. It will be interesting to see how many of you "share" this link. Will it be more, because it's a sexy topic; or less, because it's also an uncomfortable one? Hmm. We'll see!
Please be well,
Mark
Get e-mail notifications every time Mark's blog is updated.
Visit Mark's live blog at www.MyFabulousDisease.com.
---
Comment by: Wilson
(Zimbabwe Africa) Tue., Apr. 12, 2011 at 11:00 am UTC
I am 50 years old and on ART MED since 27/05/2008, my cd4 was 1 and weighted 62kgs,My cd4 is now at 83 and +/-72kgs, My erection is very poor,what should i do, hey i used to enjoy sex but now its almost 10 years, Does kiss infect the virus,my wife is hiv negative and doesnt want to kiss me and to have sex even there is an erection.Help!Help!
Wilson
Replies to this comment:
Comment by: Nelson
(Houston, TX United States) Wed., Apr. 13, 2011 at 10:20 am UTC
You cannot infect someone by kissing them. I am so sorry that your wife needs some educating.
You do not mention your viral load. Is it over 50 copies/ml? If so, you need to talk to your doctor to switch or adjust your medications to bring your viral load under control so that your CD4 cells can increase. Have your doctor also check your blood level of testosterone if that test is available. If testosterone injections are available in your country, your doctor can prescribe them as a 200 mg injection every two weeks if your blood level of testosterone is low. Tadalafil is a pill that your doctor can also prescribe to help your erections even further.
One more thing: if we feel rejection or fear from our sex partners about our HIV status, that can usually makes us feel self-conscious enough not to have an healthy erection, so think about that.
Nelson
Comment by: Freddo
(Baltimore, MD) Fri., Apr. 1, 2011 at 9:46 pm UTC
Mark and Nelson, you're both gems. Pick whatever stone you'd like to be. Thank you for bringing levity to what could be an otherwise somber topic.
Add Your Comment:
(Please note: Your name and comment will be public, and may even show up in
Internet search results. Be careful when providing personal information! Before
adding your comment, please
read TheBody.com's Comment Policy
.)