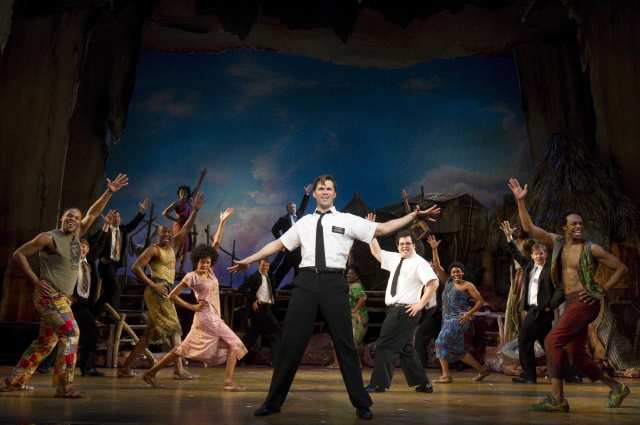 Will someone -- anyone -- be able to harness this bubble of media attention to educate people about AIDS in Uganda?
Here's a scene from "The Book of Mormon," the just-debuted musical comedy written by South Park creators Matt Stone and Trey Parker, the pair who've made millions taking sinful swipes at everything from gays to Jews to -- yes -- the AIDS crisis.
A group of raggedy-clothed Ugandans labor outside a gathering of shanties. One villager drags a bleeding donkey carcass across the stage. Elder Cunningham and Elder Price, two doe-eyed Mormons who will spend two years living in AIDS-riddled Uganda, stare. Their jaws drop.
The Ugandans, happy to welcome their guests, break into song.
"There's war! Poverty! Famine!" They bellow. "We've had no rain in several days ... and 80 percent of us have AIDS!"
Stone and Parker are the kings of crass, and it's no surprise that the brains behind a band of foul-mouthed gradeschoolers also make a few off-color jokes about AIDS. Indeed, the musical -- which tells the story of a pair of teenage missionaries as they convert Ugandans to Mormonism -- delivers all the viciously titillating trappings of a show dreamed up by two notorious provocateurs.
Hitler prances across the stage in pleather pants. A troop of coifed cookie-cutter missionaries do high kicks in pink sequined vests. Villagers repeatedly suggest that a sexual encounter with a frog will cure them of AIDS. The New York Times blessed the piece in its Friday review, calling it both "scurrilous" and "sweet."
Advertisement
Yes, it's offensive. But the real question is this: Will someone -- anyone -- be able to harness this bubble of media attention to educate people about AIDS in Uganda?
Uganda, once praised by international health organizations for its rapid and forward-thinking response to a staggering AIDS crisis, now faces serious threats to this progress.
Much of this is due to waning financial commitment from the U.S. and other wealthy nations.
"We are just sitting on a time bomb," said Dr. Peter Mugyenyi, a leading Ugandan doctor who is visiting the U.S. this week to urge members of Congress not to cut Uganda's AIDS funding. "We are going to go back to where we have to play God again, where we have to decide who gets treatment and who doesn't."
Success in Jeopardy
In the 1980s, more than 30 percent of Ugandans were HIV-positive. By 2008, however, that number had fallen to 6.4 percent.
In recent years, the fate of Uganda's HIV/AIDS crisis had begun to look even more hopeful. Cheap generic antiretrovirals became available. The UN initiated the Global Fund to Fight AIDS, Tuberculosis and Malaria. George W. Bush launched the U.S.' most ambitious effort to fight global AIDS, the President's Emergency Plan for AIDS Relief, or Pepfar.
But when the financial crisis hit, rich nations began to pull back on their contributions to fight AIDS.
Under President Obama, increases in U.S. funding for Pepfar slowed measurably. For fiscal year 2011, President Obama requested about $7 billion for the program, just $122 million more than the previous year. By comparison, U.S. funding for Pepfar rose more than $1.5 billion between 2007 and 2008.
While U.S. support has hit a near stand-still, Uganda's HIV infections continue to grow. For every 100 people put on treatment, 250 are newly infected, according to UNAIDS.
Turning Ugandans Away
This means those who need drugs will be turned away. A year ago, Pepfar instructed Dr. Mugyenyi to stop accepting new patients at his clinic in Kampala. His heart broke. "This was clearly a retrogressive step at the time when Pepfar had been succeeding beyond all expectations," he said.
The New York Times visited his clinic. In May, Uganda was the subject of an article that warned the nation "is the first and most obvious example of how the war on global AIDS is falling part."
Thanks to a flurry of media attention, Pepfar earmarked $300 million in additional funds for Uganda. But money will run out soon. Dr. Mugyenyi estimated that in 18 months, funds for new patients at his clinic will dry up. He is in panic.
Uganda faces other challenges in its AIDS fight. Two potentially damaging laws sit in Parliament: One would make homosexual acts punishable by death. Another would criminalize HIV transmission and trample confidentiality rights. Both threaten to complicate efforts to encourage HIV/AIDS prevention and treatment.
Who Should Give Back?
Major Broadway successes can rake in millions, with big rewards for investors. "Rent" brought in $274 million during its 12 years on the circuit. Other shows have made three times as much. Critics have lined up to salute "The Book of Mormon," and by all measures, it's on the road to success. "Mormon" brought in a healthy $624,456 between Thursday's opener and Sunday.
But there's no word from the South Park duo (or the show's third writer, "Avenue Q" creator Robert Lopez) on whether they will donate any money to people in Uganda. The show's publicist declined to answer whether they should.
But Asia Russell, an AIDS activist who splits her time between the U.S. and Uganda, did.
"These producers are hugely popular, and they have real power because they reach so many people," said Russell, who coordinates international advocacy for Health GAP, an NGO that seeks to narrow health care access disparities. "The producers have an obligation to give back."