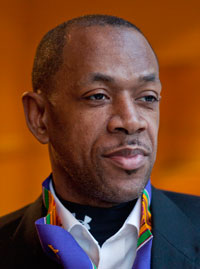 Dr. Mark Colomb.
This week we lost another leader in the HIV community. Dr. Mark Colomb (1963-2011) was passionately committed to Mississippi and other southern communities; and he focused on responding to the needs of Black men who have sex with men. Dr. Colomb participated in the Centers for Disease Control and Prevention's (CDC) consultation which resulted in the establishment of the Minority AIDS Initiative (MAI) in 1997. The MAI provides critical resources to enhance and increase the access of racial and ethnic minorities to HIV/AIDS prevention, care, and treatment services. Dr. Colomb's work helped pave the way for the creation of National Black HIV/AIDS Awareness Day (NBHAAD), an HIV/AIDS testing and treatment community mobilization initiative targeting the Black community; the founding of My Brother's Keeper (MBK), a national organization dedicated to reducing health disparities in African-Americans, where he served as President/CEO; and the Mississippi Urban Research Center (MURC) at Jackson State University (JSU), which serves as a clearinghouse for dissemination of research data on pressing urban issues.
As we remember Dr. Colomb, I encourage you to watch the following video from the Black AIDS Institute where he speaks about his work in response to HIV in Mississippi:
Christopher Bates is the executive director of the Presidential Advisory Council on HIV/AIDS (PACHA), U.S. Department of Health and Human Services.