This Positive Life: An Interview With Richard Brodsky
April 1, 2011
Olivia Ford: But what was the treatment like for the brain cancer?
Richard Brodsky: They just gave me radiation. It wasn't too bad. I was also able to even run during that time. Jodi had to drive me every day. I wasn't allowed to drive for six months. It did not leave me with any side effects, so I was OK from that.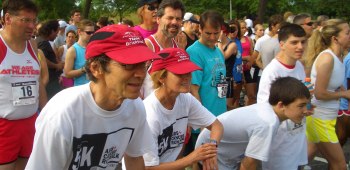 Richard and Jodi at the start of the 2010 5K AIDS/Cancer Run/Walk. The Foundation will be sponsoring its fourth annual 5K event on June 12, 2011. Register for the event.
Olivia Ford: That's wonderful. I'm glad to hear.
Richard Brodsky: I sort of feel like a cat. I got three of these lives. My wife is with me, the HIV, the brain cancer. But I don't want to say that because I'm just very fortunate.
[Richard's wife, Jodi Brodsky, joins in the conversation.]
Olivia Ford: Jodi, welcome. Thank you so much for joining us.
Jodi Brodsky: That's OK. Thanks for having me here.
Olivia Ford: And how did you two meet?
Jodi Brodsky: We're both passionate about running, well now we are. But when I met him, I was in law school and I was very busy and focused, having no time except to do my running and studying, so when he called, he told me, "The rabbi gave me your number." I had gone to a neighboring synagogue and taken some courses and the rabbi never told me, "Give me your number. I'm going to give it to someone who comes to the synagogue." But Richard came and he went to a lecture there and he gave him my number. And when he called, I was like, "I don't know. The rabbi?" I was questioning it, but I told him, "Well, I run at this park early in the morning. You can meet me there."
So he met me at this park in Texas. It's called Memorial Park and it's a funny story. We started running and he was a little nervous because he hadn't run five miles -- I used to do five miles a day or six miles, and he hadn't run that far. So we started jogging and then he started talking to me a little. I don't know, I was just trying to focus with the running, because when you're running sometimes you have to concentrate on how you're going and your breathing and everything. Then I think I told him, "You know, could you be a little quiet?" That story comes out years later, he's telling me like, "I don't know. Maybe you told me to be quiet. How could you tell me to be quiet?" But we laugh about it. So we met that way and he really ended up enjoying the running and the relationship developed. That was our first date really, a run.
Richard Brodsky: We were actually engaged three months later and we married like about a year from the time we met each other.
Olivia Ford: So now asking you the same question that I asked Richard, from your perspective. How did you find out that Richard was HIV positive?
Jodi Brodsky: My girls were away in camp for the summer, so we had a couple of summers that were really nice, because he worked in the city. So during the year, I didn't get to see him as much. He was working really hard. But in the summer, they finally, the last one went to camp, so they all were there together, upstate New York. So then we were able to spend the time together. We were having our regular summer together. And then he called me downstairs. There was like a gym downstairs in the building where he worked. I would go to work with him every day and help him out. And he told me to sit down, there was something he needed to tell me. And I was like, "OK."
"I did research on hotlines and found out about what you do when someone first gets diagnosed."
-- Jodi Brodsky
I think he first told me he was bisexual. It was very shocking to me because there were no signs. There was never any talking about that, feelings that he had before or anything like that. He was my best friend. We were very passionate about each other and close. So it was very shocking. Then he told me, "I have to tell you something else." He's HIV positive. All in one time to tell someone two very serious conditions, it's very shocking to find that out. So that's how he told me.
And then he goes, "Well, you don't have to come home with me. I don't have to go home with you tonight. You could think about what you want to do." You know, we were very close and I even for one minute -- Richard has written a book about this situation, our story -- the story is, I never for a minute said, "No, don't come home with me. I have to rethink this whole situation." I kind of knew. He said he wanted to remain together and something had happened and he got involved.
So I just said, "We'll find out about this." He told me, "I did a little research. I think people are living with it now." So it was all a lot that we had to -- I did research on hotlines and found out about what you do when someone first gets diagnosed. But my initial reaction was shocking. It was shocking, surprising.
---

This article was provided by TheBody.
---
Add Your Comment:
(Please note: Your name and comment will be public, and may even show up in
Internet search results. Be careful when providing personal information! Before
adding your comment, please
read TheBody.com's Comment Policy
.)