I Agree: We Are Not A F***ing Scorpion!
By Rae Lewis-Thornton

March 18, 2011
This piece originally appeared in Rae's blog, Diva Living With AIDS.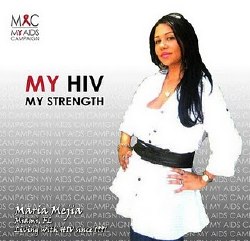 Maria Mejia
The other day, I saw a tweet from Sassy Maria, as I call her. She's another woman living with HIV and doing her part in this fight. I clicked the link because the title of her blog post caught my attention. "I am not a scorpion." Damn straight she ain't! I mumbled, "She's a cutie pie." I wanted to know what the hell she was talking about. Wanted to know who I had to fight on her behalf. On Twitter we have created a little family and we all stick together. #teamHIVAIDS.
When I saw the reason of her distress I was in disbelief. I sat there trying to process what I was seeing. I read her blog post and I liked what she had to say so I asked if I could share it with my readers. Click here to read her blog. I'm sharing her views because I am not alone in this. There is a community of women living with AIDS, doing our part, and fighting to maintain our dignity in the face of stigma.
I had to give this AIDS awareness campaign in France a lot of thought. Like Maria, I understood the point. But I wondered if it did more harm than good. I started to think about all the implications in these ads. Then I Googled the other picture she had mentioned. People with AIDS being compared to Hitler? HUH? The scorpion was one thing, but Hitler? Damn!
They going hard. For Real ... And don't get me wrong, I understand going hard. Remember I posted this picture with the man in a suit and his penis hanging out.
And yes, I'm the person who created #FuckinFriday on Twitter and I tweet about people fucking on Fridays without thinking. So while people are making there plans to have sex on Fridays, I remind them to take there fuckin ass to the drug store and get some fuckin condoms so they don't become a fuckin fool. Yep, I actually tweet about that all day on Fridays. So I understand about getting people's attention. I understand hitting as hard as you can with the hope that you have an impact. And I've never been one to sugarcoat a thing.
But there was something about this ad campaign that didn't sit well with me. It left a bad feeling in the pit of my stomach. It seemed to overstep a boundary. The difference is in my methodology, i.e., how I approach my activism and this campaign; they name call and provoke fear and hatred.
I mean, come on! When you see a scorpion you immediately think of death. And maybe that was their point. But the fact of the matter, like Maria, I'm not a fucking scorpion. I'm a loving, fabulous woman that God made in His image. Yes, having unprotected sex with a person with HIV will probably get you HIV. But that is one side of the coin, on the other side, having protected sex, i.e., sex with a latex condom, will protect you from HIV.
The most disturbing part of this ad is that they compared people living with HIV with an image that is repulsive, that everyone connects with death. But just so you know there are 1752 species of scorpions and only 25 have venom that will kill you. So even this ad is rooted in misinformation on one level.
But then you take the Hitler picture. Make no mistake, there is no good quality that I can muster up on his behalf. So I take great offense to being compared to a man who deliberately set out to kill a few races of people, as well as cultures. It is especially disturbing to suggest that I am a murderer when statistics show that the majority of people who have HIV go to great lengths to protect their partner. To suggest that I am a killing machine is way over the line and it feeds into the stigma that already clouds the real issues around HIV/AIDS.
Yes, in 2011, 30 years into the AIDS pandemic, there is still a cloud of stigma that feeds into fear of people with HIV/AIDS and creates a fear of disclosure and shame by people living with HIV.
Case in point, the woman who emailed me that her mother will not go into the HIV clinic with her. The young man who's afraid to tell his family he has HIV and has been living in secret now for three months. And, the host of people on Twitter #teamHIVAIDS, who live in secret with their status for fear of judgment and rejection. Yes, even I lived with this fear for almost 8 years. I understand it well.
It is campaigns such as these that not only make us feel bad about ourselves, but they also continue to feed into an unjust hysteria about the type of people who actually have HIV. This ad is not just calling HIV ugly, it's making the inference that people with HIV are like the images in these pictures.
So how can you, society, ever like me when I'm compared to Hitler? How will you ever get to know me if you have already pre-judged me? Will I ever make it to your home if you already think a certain way about me and other people living with HIV? If everything you've been told about me directly or indirectly is heartless, nasty and mean, how will you ever really come to know and most importantly, support me? This campaign isolates people with HIV/AIDS.
---
| | |
| --- | --- |
| No comments have been made. | |
Add Your Comment:
(Please note: Your name and comment will be public, and may even show up in
Internet search results. Be careful when providing personal information! Before
adding your comment, please
read TheBody.com's Comment Policy
.)