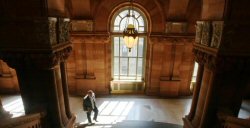 AIDS advocates try to shake up Albany.
James Graham, a 51-year-old Albany resident, was diagnosed with HIV in 2003. Yesterday, for the first time, he told a legislator what was on his mind.
Yesterday was AIDS Awareness Day in Albany, an annual legislator education day in which people living with HIV visit with elected officials and explain how their lives are affected by state AIDS policy.
This year's AIDS Awareness Day was especially critical: It took place days before the deadline for the legislature to decide on initial cuts to the state's $53 billion-plus Medicaid program. New York's Medicaid system serves more than half of all New Yorkers living with HIV, around 64,000 people.
Advertisement
Graham was especially concerned about a proposal to increase patient copays for doctor visits, which will stress his already tiny budget. Since undergoing emergency surgery for an infection in his pelvis, Graham can't sit, stand or walk for an extended period of time. As a result, he can't work and lives on a fixed income of $743 a month. He spends about half of that to pay rent.
He urged legislators not to raise copays.
"I made this plain," he said. "It's easy for them to decide something when it doesn't involve them. But to sit and hear and see people like me who it does involve . . . maybe somehow the legislators will have a different view or outlook and a better heart at judging what needs to be cut and what doesn't."
This year's AIDS Awareness Day was organized by Housing Works. Thirty-five people, including people living with HIV/AIDS and service providers from Catholic Charities, Centro Cívico of Amsterdam, and the AIDS Council of Northeastern New York, spoke with 14 legislators. In most of the conversations, citizens explained how Medicaid reform proposals will affect their lives and the lives of the people they serve. In the future, many of these citizens will return to speak with legislators about other pressing HIV/AIDS issues, including the passage of the Gender Identity Nondiscrimination Act, HASA for All, and the 30 percent rent cap bill.
"The budget is due April 1, and it's most likely going to be done April 1," said event organizer Carmelita Cruz, Housing Works' director of New York State advocacy and organizing. "So it's really important for [people living with HIV/AIDS] to be in Albany now. You get a different feel for things when there are people sitting in front of you telling you how things actually work when you live with HIV."
Read analysis of reform proposals Housing Works supports and opposes.