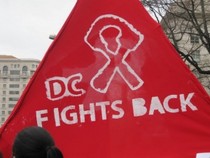 D.C. Fights Back not satisfied with host committee appointees. Photo: D.C. HIV/AIDS Examiner.
On Wednesday, Mayor Gray announced the Host Committee for the 2012 International AIDS Conference, which is scheduled to be held in D.C. This is the second announcement in the past 30 days of an assembly of people brought together to tackle AIDS in D.C. The AIDS Commission commenced last week with its first meeting and swearing in ceremony. The newly minted Host Committee has some prominent figures as members such as former D.C. Mayor Sharon Pratt, former HAHSTA Chief Dr. Shanon Hader, NMAC Executive Director Paul Kawata, and Destination D.C. President and CEO Elliot Ferguson. But for one local activist organization, the announcement has incited outrage. D.C. Fights Back says they are disappointed by this announcement because the appointees do not appear to be people who are openly living with HIV. They are demanding answers from Mayor Gray.
D.C. Fights Back, a network of people living with HIV/AIDS and their affiliates, are upset by the announcement saying that there isn't enough representation from people living with the disease or from the Harm Reduction community. A letter from D.C. Fights Back to the Mayor stated "It is a complete and total insult to not have those closest to the HIV & AIDS epidemic, particularly those living with HIV & AIDS, in prominent roles with meaningful representation." They are also discouraged by the fact that the D.C. Community Coalition has once again been ignored as an equal partner in the planning process of this conference. The letter stated that this kind of nescience "sends a far too familiar message of having the District's residents and frontilne workers and planners in a 'seen and not heard' role." The group explains that the absence of people who are just regular, everyday HIV positive citizens and not associated with any organization 'fuels the stigma and discrimination that paralyzes community involvement.'
DCFB wants to set up a meeting with the mayor to discuss their concerns and possible suggestions for committee members but there is no word on when such a meeting will occur. There has been no confirmation about the HIV status of any of the members of the Host Committee. The D.C. Community Coalition continues to work closely with the planners of the International AIDS Conference to ensure that everyone's voice is heard.
For more information on D.C. Fights Back, click here.
Recommended Reading
D.C. AIDS Commission Commences While the Government Gets Its "Report Card"
The 2012 International AIDS Conference Is Coming to D.C.
Mayor Gray Announces the First D.C. Commission on AIDS
Get e-mail notifications every time Candace's blog is updated.
(Please note: Your name and comment will be public, and may even show up in
Internet search results. Be careful when providing personal information! Before
adding your comment, please
read TheBody.com's Comment Policy
.)