"Treat 3 million by 2005" (3 by 5) is the global initiative of the World Health Organization and UNAIDS to provide antiretroviral therapy to 3 million people with HIV/AIDS in developing countries by the end of 2005.
"We must meet the challenge of expanding access to HIV treatment. This requires overcoming the formidable barrier of creating sufficient operational capacity -- a key area where UNAIDS Cosponsor WHO must play a critical role. We have adopted a target of 3 million people on antiretroviral treatment by 2005 -- a massive challenge, but one we cannot afford to miss."

-- Dr Peter Piot, UNAIDS Executive Director
In 2001, partners within UNAIDS and other organizations along with scientists at the World Health Organization (WHO) calculated that, under optimal conditions, 3 million people living in developing countries could be provided antiretroviral therapy and access to medical services by the end of 2005. Nevertheless, treatment enrolment in afflicted countries continued to lag.
Advertisement
On 22 September 2003, the leaders of UNAIDS, WHO, and the Global Fund to Fight AIDS, Tuberculosis and Malaria joined together to declare the lack of access to antiretroviral drugs to be a global health emergency. In response, the "Treat 3 Million by 2005" (3 by 5) Initiative was launched.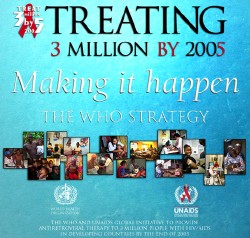 "Treating 3 Million by 2005: Making It Happen"
On 1 December, UNAIDS and WHO launched "
Treating 3 Million People by the End of 2005: Making It Happen
," a detailed and concrete plan to reach the 3 by 5 target by the end of 2005.
Read more about the 3 by 5 initiative
.