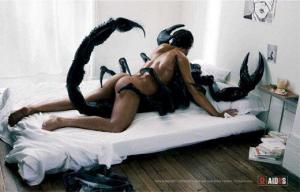 Photo credit: TBWA Paris.
Well, well, well. Where the hell do I start??? I am going to try to be as nice and sweet as possible! I had to give myself a day to write this.
It started as another thing I posted on my facebook HIV space, I posted an ugly, disgusting picture of a scorpion wrapped around a man and it is about to sting him and kill him! And I wrote how I really feel about this horrible, nasty campaign! I mean, what the hell?? Is this how we want people to view us?? Like a lethal scorpion? I dont think so ... I am a beautiful, good, loving, caring human being ... I take care of my beautiful partner and protect her! I deeply dislike this picture! Not to say the word HATE! And I know they are trying to scare people with this image. This is similar to me as the one they did of Hitler ... comparing him to HIV/AIDS! I am not HITLER either!
Advertisement
I guess what bothers me is the message! I do not want us to be compared to a lethal scorpion or Hitler for god's sake. This makes me feel so many emotions ... when I first saw it it caused me anger, fear, shame! It made me feel so weird ... I looked away and closed up the image. And you know why? Because it looks nasty, dirty ... like someone is about to get murdered! It made me feel FEAR! So imagine how people view us?? Do we want people to view us as deadly scorpions?? This actually makes people more scared of us and not only that ... it makes stigma grow even stronger when we are being compared to disgusting images like that! ughh.
I actually believe that through showing the different faces of HIV/AIDS and people hearing and reading our stories, we accomplish more ... NOT through fear! And that is what the image does. I mean, I still don't like to look at it ... so what does it do to a person that views this?? It makes them uncomfortable, they look the other way, they compare us to a monster ... and at the end, they are not being educated because through fear you will not educate anyone! We have to teach with love and show and teach people our stories ... but not with fear. That is the real way to make effective campaigns of prevention ... with our faces! And that is what I am doing and will continue to do ... my face, my life, my story.
With this I want people that are HIV negative to feel at ease, to get to know us, to feel more comfortable ... not view us as a lethal object which is what this image compared us to ... it is so sad! I wonder who the hell thought of this and Hitler?? Do they know how it would hurt us either infected or affected?? I mean come on, it doesn't take a rocket scientist! Or maybe they just cared about one side ... the HIV negative population and that is Ok! But, remember their are millions of people living with this illness and unfortunately many more that don't know about their status and new infections that happen everyday! So please, next time think of us also! And if you want a good campaign, let us educate with LOVE and KNOWLEDGE ! Not with a freaking ugly thing like that! And last but not least ... I want to scream this to the world:
I AM NOT THAT UGLY SCORPION!
Love and light as always,
Maria Mejia
Comment by: Vincent
(France/UK) Fri., Mar. 11, 2011 at 8:00 pm UTC
Hi Maria,
I am Vincent and I am an activist in the French NGO AIDES - which logo is on the ad. When this ad was published, I can assure you that many people were shocked as well.
We, activists from AIDES, are infected and/or affected by HIV and we fight in our everyday life against this demonaziation of HIV-positive people and HIV-Stigma.
It is sometimes difficult to have a total control on what a communication agency -- such as TBWA -- produces as they made the campaigns for us for free. We recently had another similar issue.
I am glad though that our activists don't take campaigns as they come and keep a critical viewpoint to sometimes lead to refuse some of the campaigns (even if with the Internet, it is difficult to avoid them to be spread).
You are right, HIV/Aids campaigns tend to keep HIV-Stigma going while thinking it is prevention. I would be proud as an HIV-Neg guy to pose for a campaign, laid down on the same bed having sex with an HIV-Poz partner to put forward a complete different message against stigma.
Take care,
Vincent
vleclercq@aides.org
Replies to this comment:
Comment by: Maria Mejia
(Miami) Sat., Mar. 12, 2011 at 6:15 pm UTC
Hello I appreciate your response..I didn't mean to offend just express what I felt in my heart..I am really trying to fight stigma and I am tired of being treated like a criminal or hiding over these past 20 years that I have been infected..I am very blessed to have an hiv negative partner that is educated ..and I think it would be awesome if a campaign would be out there as you described..that would cause more impact and accomplish more :)