Washington HIV/AIDS Group Spearheads National Partnership to Empower Women and Girls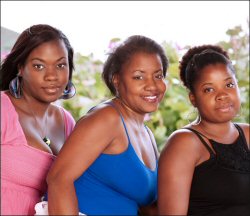 Washington, DC -- Community Education Group (CEG) is proud to once again serve as the community anchor for National Women and Girls HIV/AIDS Awareness Day on March 10th, a program of the Department of Health and Human Services Office on Women's Health. HIV/AIDS is a serious public health issue affecting nearly 280,000 women in the United States according to the Kaiser Family Foundation. As we enter the third decade of HIV in the United States many have forgotten the impact HIV has on American families and communities: we need to do more to stem the tide of infection. This year, CEG developed the theme "It's Time for Action" for National Women and Girls HIV/AIDS Awareness Day to reflect the urgent response required to combat this epidemic. Founder and Executive Director of the CEG, A. Toni Young, developed this collaborative effort with organizations that are based primarily in the 12 jurisdictions targeted by the National HIV/AIDS Strategy (NHAS) to call for local action and activities to support the implementation of the National AIDS Strategy and the 12 Cities Initiative.
"March 10th is not only an opportunity to raise greater awareness, but to also implement sustainable efforts that empower our communities with the knowledge and tools to address HIV/AIDS in United States," explained Young. "Above all this is a new start: a chance to rethink our approaches and to find what works in our hardest hit communities – a big part of this will be community and government working together to implement plans that work to reach people where they are with what they need. " It's Time for Action!"
The National HIV/AIDS Strategy (NHAS) released by the Obama Administration in July 2010 set ambitious targets in HIV incidence, care access and HIV-related health disparities. In August 2010, funding was allocated by the Federal Government to plan more coordinated, targeted and scaled HIV prevention approaches. This 12 Cities Initiative has the potential to develop model HIV programming that effectively integrates HIV testing, prevention and treatment, and expands the reach of these services to those most in need. As such, these 12 metropolitan areas can lead NHAS efforts to bring needed system-wide reforms to the US response to HIV/AIDS for women and girls. We must take action to ensure these resources remain in the budget to provide adequate prevention, care, treatment and research.
Advertisement
According to the Centers for Disease Control and Prevention (CDC), 1 in 4 women account for new HIV/AIDS cases in the U.S. and of those women living with HIV/AIDS, 80% are women of color. The Kaiser Family Foundation notes that less than one-in-five non-elderly women report being tested for HIV in the last twelve months, and of those who were found HIV positive, 30% of women were tested for HIV late in their illness and thus diagnosed with AIDS within one year of testing positive. CEG is bringing together community based organizations and city health departments to call in one voice to create a stronger movement to address HIV/AIDS among women and girls. Community Education Group is working in collaboration with the following organizations around the country to build on this momentum with "It's Time for Action."
Afiya Center (Balch Springs, TX)
AIDS Project LA (Los Angeles, CA)
Bee Busy, Inc. (Houston, TX)
Brothers and Sisters in Action (Rialto, CA)
DC Department of Health (Washington, DC)
GMHC (New York City, NY)
HISD & Concept 2 Resource (Houston, TX)
Houston Department of Health and Human Services (Houston, TX)
Philadelphia Chapter of the US Positive Women's Network (Philadelphia, PA)
SisterLove (Atlanta, GA)
Sisters Together and Reaching (Baltimore, MD)
Street Works (Nashville, TN)
Located in Washington, D.C, CEG serves the nation's capitol, which has the highest diagnosis rate of AIDS in the country, keeping the epidemic at 3% of the adult population. Young sees this new focus by the Obama administration on the HIV/AIDS epidemic as an important step in combating the spread of HIV, particularly in CEG's targeted population, the women and men who live and congregate in Wards 7 and 8 of Washington D.C., where over 95% of the population is African American and thus hard hit by the HIV epidemic.