Up Close & Personal
Find inspiration in these first-person narratives from women living with HIV. In the personal profiles, exclusive columns, video testimonials and blog entries below, you can get firsthand knowledge about dating and sex, substance abuse, motherhood and pregnancy, gender oppression, disclosure, religion, self-esteem, social justice, growing older and much more.
Personal Profiles | Southern AIDS Living Quilt | Bloggers
Personal Profiles
For years, after she got HIV from her boyfriend during unprotected sex, Precious was angry and ashamed. When she finally sought out the support she needed, her life changed. Her recovery from co-dependency has allowed her to stay above water. Precious is currently in a committed relationship, and as an HIV advocate, she now helps other people adjust to living with HIV and fights for better medical care for HIV-positive African Americans, especially women.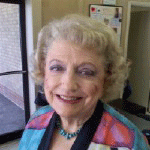 "Many diseases can't be prevented. But HIV can," says Jane Fowler. In the 20-plus years since she was diagnosed with HIV at age 55, awareness of the unique impact of HIV on older adults has grown considerably -- and the community has Jane to thank, in part, for that awareness. But her true passion lies in HIV prevention education. A renowned speaker and advocate for people, especially women, who are over 50 and living with HIV, she's been scandalizing teenagers since the mid-1990s with the information that, yes, their parents and grandparents do have sex, and need to know more about HIV.
Southern AIDS Living Quilt
The Southern AIDS Living Quilt is a project that illustrates the growing impact of HIV on women in the southern U.S., particularly women of color. Using video testimonials, the Living Quilt shares the personal stories of women living with HIV, their families and health care providers throughout the region. The stories underscore the critical importance of making HIV screening a routine part of medical care in order to ensure earlier diagnosis and prevent the spread of the disease.
Bloggers
Maria T. Mejia: Time to Show My Face and Take the Stigma Away
When Maria was diagnosed with HIV at 18, her mother said, "You will not die from this, but you will tell the family you have another disease." Now, after years of silence, this Miami resident is more than ready to open up to the world about living with HIV.
Brooke was diagnosed HIV positive in January 2010 -- two months married and 11 weeks pregnant with her first baby -- and has already begun to educate others about HIV.
More From This Resource Center
---
---
Add Your Comment:
(Please note: Your name and comment will be public, and may even show up in
Internet search results. Be careful when providing personal information! Before
adding your comment, please
read TheBody.com's Comment Policy
.)