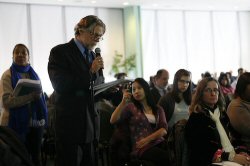 Housing Works' Charles King advocates for people living with HIV at a public hearing on Medicaid reform.
For low-income New Yorkers living with HIV, there are some beneficial, as well as some potentially harmful, suggestions in the Medicaid reform proposals approved last week by the state's Medicaid Redesign Team.
"There are suggestions in the package that are sketchy, meaning their implications will be unclear until they're fleshed out," said terri smith-caronia, Housing Works' vice president for New York State advocacy and public policy. "But we're cautiously optimistic. In general, this is not the most problematic package we could have seen."
Advertisement
The proposals will not become policy until the legislature incorporates them into the 2012 budget. This means advocates for the state's 4.7 million Medicaid users (64,000 of whom are living with HIV) still have several weeks to press policymakers to tweak or better define reform proposals. Advocates who have suggestions should attend Thursday's
state health budget hearing
in Albany, where legislators on the health committee, as well as staffers from the state health department, will be in attendance.
Here's Housing Works' take on a few key proposals. For a lengthier analysis of the reform package, see the document embedded below.
The Good
A proposal previously considered by the team to eliminate the COBRA HIV/AIDS case management program was withdrawn from the final reform package. The COBRA program links vulnerable individuals living with HIV to health care, housing and cash assistance. The program's elimination would have been devastating for thousands who consider it a lifeline.
Housing Works also applauds a proposal to create a supportive housing work group tasked with finding 5,000-10,000 supportive housing opportunities for persons at risk of nursing home placement. Supportive housing -- residences that provide both a home and access to services like health care -- is a cost-effective tool for people living with chronic conditions to stay healthy and independent. Housing Works urges the work group to make sure that such housing is expanded for people living with HIV/AIDS.
The Questionable
It's still unclear, however, how the implementation of certain proposals would affect Medicaid users with HIV. Housing Works is keeping a close eye on proposal 15, which suggests rebuilding the New York preferred drug list. It is unclear if antiretrovirals will be included in the preferred drug list, but we strongly oppose including HIV/AIDS medications in the list without a "provider prevails" provision.
(See a full list of the proposals.)
A New Proposal
Last week, the Obama Administration approved needle exchange programs as "drug treatment," opening the door for federal money that was set aside to treat addiction to be used for syringe distribution. We call on the state to explore using federal Medicaid funds to reimburse organizations that provide needle exchange and harm reduction therapy. These interventions are proven to reduce HIV transmission and dramatically reduce drug overdoses.
In January, Cuomo pledged to overhaul the state's $53-billion plus Medicaid program. He appointed a 27-member Medicaid Redesign Team to gather reform suggestions and deliver a package of initial cost-saving suggestions by March 1. In the last two months, however, many community members have criticized the reform process, both for its haste and lack of inclusivity. The group surprised and angered many on Thursday when it voted on a package of reforms after just six hours of debate.