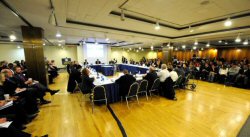 The Medicaid Redesign Team delivers reform suggestions after mere hours of debate.
In a move that stunned and angered many health care advocates, the Cuomo administration ambushed its own Medicaid Redesign Team with last-minute recommendations on Wednesday, and then pushed the advisory group to pass them yesterday after a mere six hours of debate.
The team was slated to spend three days reviewing a package of 39 reforms before voting to send them on to Gov. Cuomo. But the state health department expanded the number of reforms to 79 late Wednesday. Then, on the first day of review, Cuomo official James Introne urged the team to take a vote.
Advertisement
Advocates for Medicaid users, including Housing Works, denounced the hurried process.
"It's absurd for Cuomo to call this an 'open' process," said terri smith-caronia, Housing Works' vice president for New York State advocacy and public policy. "The public, the people who actually use Medicaid, thought they had at least three days to weigh in on the proposals and to call their representatives on this body and ask them to fight for their proposals."
Four Redesign Team members abstained from the vote on the package due to concern about the speed of debate -- Sen. Kemp Hannon, Assemblyman Dick Gottfried, Assemblyman Joe Giglio and Lara Kassel, the only consumer representative on the team.
"A binder was placed in front of me, most of which of which was received the night before," said Kassel of Medicaid Matters New York, which advocates on behalf of the state's Medicaid recipients. "Frankly I am not familiar enough with the package to say 'yay' or 'nay.' I think there could be some really excellent things in the package, and I think there could be some really detrimental things in the package, [but] the process made it impossible to know."
In January, Gov. Andrew Cuomo pledged to overhaul the state's $53 billion-plus Medicaid program. He formed the Medicaid Redesign Team, consisting of 27 legislators, hospital representatives, union delegates and others, to gather reform suggestions and deliver a package of initial cost-saving suggestions by March 1. In the last two months, many community members have criticized the reform process, both for its haste and lack of inclusivity.
"More time for the sake of more time is not something that I think is beneficial to any of us," said Introne, Cuomo's deputy secretary for health, just before yesterday's vote.
The overhaul will affect 4.7 million people who use Medicaid, including 64,000 people living with HIV. Cuomo will use the package of recommendations to form his 2011-2012 budget, which is due April 1.
Read the governor's press release about the recommendations.
Read the recommendations proposed by the Medicaid Redesign Team.