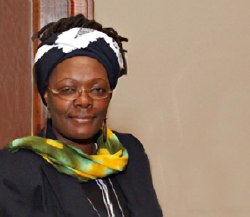 Wangari Tharao, co-chair of the African Black Diaspora Global Network (ABDGN) on HIV and AIDS
The International AIDS Society has scheduled the next International AIDS Conference for July 22-27, 2012, in Washington, D.C. It will be the meeting's first stop in the United States since the 1990 gathering, held in San Francisco. This is the first in an occasional series about conference preparations. Part 2 of this two-part story covers activists' plans to draw attention to the epidemic among black people living in industrialized nations.
Critics complain that the 2012 International AIDS Conference (IAC) has never appropriately addressed the impact of HIV/AIDS on black people.
"It has been almost like black people in the Diaspora are not affected at all," says Wangari Tharao, co-chair of the African Black Diaspora Global Network (ABDGN) on HIV and AIDS, about past IACs. "It was like we were not there. Attention was paid to Africa and the Caribbean and developing countries, where there is a high prevalence," adds Tharao, but not to the epidemics among blacks in industrialized nations.
Black activists are determined to make sure the 2012 conference focuses on issues affecting blacks who live outside of Africa, including African Americans.
Drawing Attention to Our Stories
"Developed countries now have heterosexual epidemics, and those epidemics are driven by black populations," says Tharao, who also works in HIV testing and treatment for immigrant and refugee women at Women's Health in Women's Hands, a community health center in Toronto. "These majority-white countries and their leaders are ignoring this fact. They are struggling to figure out what to do."
Advertisement
HIV/AIDS advocates say that having the conference in Washington, D.C., will help draw attention to the reality that HIV/AIDS also hits black people hard in developed nations worldwide. Washington epitomizes this reality. Not only is it the capital of arguably the most powerful nation in the world, but it is a predominantly black city experiencing the country's worst epidemic of a virus that is disproportionately concentrated among black people. The District is also home to America's first black president, whose administration has developed the nation's first domestic HIV/AIDS strategy in the 30-year history of the U.S. epidemic.
In late 2010, AIDS in America -- a consortium of national AIDS-organization chief executives and policy directors that includes the Black AIDS Institute -- met with International AIDS Society leaders to discuss how to present the story of the United States' struggle with HIV/AIDS at the 2012 IAC.
"Especially in places hardest hit by HIV, people are very unlikely to know the extent of the epidemic in the U.S," says Dázon Dixon Diallo, founder and chief executive officer of SisterLove, an Atlanta-based women's reproductive-justice organization that focuses on HIV/AIDS. "To have the International AIDS Conference in a U.S. venue means that we can draw attention to people living with HIV in the U.S. and see the role they play in the epidemic, particularly women and women of color."
Diallo and other black HIV/AIDS experts believe that the 2000 conference in Durban, South Africa -- the only one so far to take place on the African continent -- was the sole IAC to focus intensively on black people living in any part of the world. Other IACs have paid some attention to black people, but mainly those in developing countries. The other gatherings have concentrated disproportionately on epidemics among white people in developed nations, including white men who have sex with men.
"Durban was a turning point in terms of really addressing affordable and accessible and available treatment for all," she recalls via Skype from South Africa, where SisterLove also operates. "That's when the fight [for equitable attention to the issues of black people living with HIV/AIDS] really heated up."
Swapping, Sharing and Mobilizing
When the conference organizers were planning the meeting in Tharao's hometown of Toronto, she advocated that the international spotlight be turned on black people of the Diaspora. "We knew about the African American epidemic in the United States; that the black population in Canada was driving that nation's heterosexual epidemic; and that black epidemics had emerged in Italy, France, Sweden and the Netherlands," she says.
The 2006 Toronto conference succeeded in shining a light on women of African descent, but that focus "dropped off" at subsequent conferences, says Diallo, whose hopes for 2012 are high.
After Toronto, ABDGN took matters into its own hands, collaborating with black HIV advocates from France, Germany and the United States to organize satellite workshops by, for and about black people at the 2008 and 2010 conventions, held in Mexico City and Vienna, respectively. ABDGN plans to continue its programming in 2012, highlighting strategies that have proved effective among black populations across the Diaspora, which are less homogeneous than often portrayed and warrant thoughtful study and dialogue.
"What happens when those people leave the developing countries?" asks Tharao, who is creating a model to provide holistic services for HIV-positive immigrants who move to industrialized nations.
"If the U.S. Centers for Disease Control and Prevention knows they have a problem, are they coming up with solutions to deal with migrant health?" she asks. "What is another country doing that is working? Can we swap? Can we share? Can we start to look at ways of mobilizing together?"
A report presented at the 2010 IAC shows that in 27 European Union countries, as well as in Norway and Iceland, more than half the migrants of known geographic origin infected with HIV between 1999 and 2006 were from sub-Saharan Africa.
As participants talk about epidemics in industrialized nations, Diallo believes that their conversations must highlight "places that are practically invisible in international discourse on HIV/AIDS: rural and urban communities of African Americans, especially in the South, where African American women are disproportionately affected. The incidence and prevalence in those communities are similar to parts of Africa, and people don't know."
People living with AIDS -- many of them American -- will make up one-third of the expected 30,000 Washington conference attendees and will play a significant role. The presence of so many HIV-positive Americans will signal that the United States has made progress in addressing stigma and discrimination, activists say. And the active involvement of African American women will ultimately "embolden" black women on the African continent, Diallo believes.
"We know the Washington conference will give us an opportunity to mobilize even further, particularly around our own community living in North America," Diallo says. "We can share what is working, where it is working and how we can start moving that information globally."
Cindy George is a health reporter at the Houston Chronicle who also writes freelance articles; she can be reached at cgeorge304@aol.com.