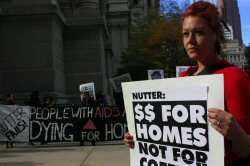 Obama refuses to read the signs: Housing prevents and treats HIV.
Obama still doesn't get it. While many AIDS programs were spared major cuts in his 2012 budget, he flat-funds or slashes funding for housing programs that are critical for people living with AIDS.
His budget proposes funding the Housing Opportunity for Persons with AIDS program at just $335 million, adding no additional dollars over 2010. HOPWA is the only federally funded program that prevents homelessness in households experiencing financial distress as a result of HIV. As unemployment has risen and thousands are dropped from the nation's AIDS Drug Assistance Programs, HOPWA has become an increasingly critical piece of the safety net for low-income people living with HIV.
Advertisement
"This budget seriously endangers the government's ability to carry out even the extremely modest housing goals set out in the National HIV/AIDS Strategy," said Christine Campbell, Housing Works' vice president for national advocacy and organizing. "It allows for no growth in the program, meaning fewer people will be able to access housing, even as more people need it."
According to the National AIDS Housing Coalition, housing is the greatest unmet service for people living with the disease. About 60,000 households use HOPWA, but wait lists exist in at least a dozen communities around the country. NAHC had recommended raising HOPWA funding to $427 million to allow an additional 16,500 households to access the program.
The president's budget also rips $300 million from the Community Development Block Grant Program, a 7.5 percent decrease from 2010). This program provides grants to communities to meet unique development needs. Thousands of people living with HIV access housing and other lifesaving services through these streams. States and localities will have to pick up the slack -- or simply not to fund certain programs.
The budget does include a $105 million increase over 2010 in funds for the nation's AIDS Drug Assistance Programs. That number falls below the $125 million requested by AIDS activists, however. And as more people try to access medications via the program, it's clear that more funding will be needed from state and federal governments.
Ignoring Structural Factors
By underfunding housing, the Obama administration continues to show its lack of understanding of the structural factors -- homelessness among them -- that play a key role in the spread of HIV. Because housing stability allows people to maintain their health and decreases the likelihood that they will engage in unsafe activities, housing is both an essential part of HIV/AIDS treatment and a powerful tool in prevention.
Funding housing also makes good economic sense. HOPWA is one of HUD's most cost-effective programs, according to the NAHC. "The budget doesn't seem to acknowledge that," said Nancy Bernstine, NAHC's executive director.
Which is unfortunate, since the president's National HIV/AIDS Strategy aims to cut new infections by 25 percent by 2015. That plan, too, gives short shrift to housing as a critical tool in fighting HIV.
"There's great concern," said Bernstine. "The cuts in these programs are going to be devastating for the AIDS community."
Photo by Kaytee Riek for Health Gap.