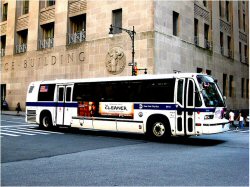 Yet again, Bloomberg threw New Yorkers with HIV/AIDS under one of these.
Mayor Bloomberg released his 2012 budget today, and as expected, he chose to throw poor New Yorkers living with HIV/AIDS under the bus.
The 2012 budget fails to restore nearly $1.5 million in city funding for supportive housing for homeless people living with HIV/AIDS (who also have mental illnesses or substance abuse problems). In order to save $4.2 million, the budget also fails to restore funding to pay for one-third of city caseworker positions at the HIV/AIDS Services Administration (HASA) -- an illegal funding cut that Housing Works successfully sued last year to prevent.
"Not only is the mayor's budget cruel and callous, it's downright illegal, an act of contempt," said Charles King, Housing Works president and CEO.
Advertisement
HASA caseworker-to-client ratios are mandated by federal court order (Henrietta D. vs Bloomberg)), as well as by New York City Local Law 49, and for good reason: Those caseworkers are the gateway to critical housing, nutrition and transportation benefits for 45,000 formerly homeless and low-income New Yorkers and their families. Even without cuts to its staff, HASA fails to give New Yorkers timely access to these lifesaving benefits.
"Only two months ago, on World AIDS Day, the mayor boasted about his new HIV testing initiative -- yet he refuses to pay for the housing and supportive services people need to get well once they are diagnosed with HIV," said King. "We embarrased Bloomberg with a schmear campaign then, and we'll keep schmearing him until he commits to a budget that will end AIDS in New York."
The Mercenary Mayor
How can Bloomberg get away with such mercenary budget-making in a progressive town like New York City, where more people are living with HIV/AIDS than anywhere else in the United States?
Just as he did last year, Bloomberg is simply forcing the City Council to find the funding that he refuses to allocate for AIDS services. To some extent, the City Council doesn't have much choice but to pay up: As far as the HASA caseworker cuts are concerned, the city is legally on the hook. But there is no such legal mandate for the $1.5 million in supportive housing cuts. Last year, to its great credit, the City Council did the right thing: They restored the lion's share of Bloomberg's reductions to AIDS services.
"The mayor is playing politics with the lives of the 45,000 poor New Yorkers living with or affected by HIV/AIDS who depend on all of these AIDS programs. We will work tirelessly to convince the City Council to stand firm with New Yorkers with AIDS and to fully fund the housing, nutrition and supportive services that Bloomberg is willing to destroy," King said.