My Fabulous Disease
Serosorting, Anyone? Touring an HIV-Positive Gay Sex Club
By Mark S. King

February 22, 2011
The idea that HIV-positive people still want sex is as old as The Denver Principles, the 1983 manifesto drawn up by people with AIDS that demanded "as full and satisfying a sexual and emotional life as anyone else." The document also stated that people with HIV/AIDS have an ethical responsibility to share their status with others.
Fast forward to today, and HIV-positive gay men are as open as ever about their status and their sexual preferences. And those choices may not include HIV-negative people at all, thank you very much.
Episode 30: Serosorting, Anyone? Touring an HIV-Positive Gay Sex Club
Last year I taped a tour of a sex club that hosts a monthly "Poz4Play" party, and sat down to interview Bill, the party's disarmingly unflappable host. In this video blog (the video is PG rated but the audio is explicit), I revisit the tour and get an update from Bill about the strong reaction to the original video, which includes a frank conversation on barebacking, the risk of other STDs, and serosorting.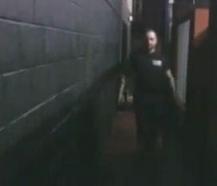 In the hallways of a gay sex club.
Serosorting, or limiting sexual partners to those who share your HIV status, has become the de facto prevention technique for many gay men with HIV. Research indicates that the tactic may have value in containing the spread of HIV, but as you might guess, isn't so effective when it comes to HIV-negative gay men who attempt to serosort amongst themselves. People who claim to be negative are often wrong, misinformed or simply lying. HIV-positive men who claim to be positive are less likely to be wrong about that fact.
On an important side note: Is avoiding HIV enough? Research indicates that poz-on-poz sex is much more likely to include barebacking (unprotected sex), and that means the potential of pitting a sometimes compromised immune system against other sexually transmitted diseases. A recent study found that 75 percent of new hepatitis C virus (HCV) infections in HIV-positive men occurred in those with no history of injection drug use -- the more typical transmission route for HCV. Barebacking is the suspected culprit.
Everywhere on the gay hook-up radar, positive men are asking, telling, and serosorting. "Disease free, UB2" in online profiles is being countered by the cheeky "HIV-positive and plan to stay that way, UB2." Meeting sites are engaging in some serosorting of their own by offering poz dating and hookup options.
And over at the barebacking gay porn company Treasure Island Media (TIM), director Paul Morris has named it "the year of living positive," with a series of videos featuring openly HIV positive actors. While one might appreciate Mr. Morris' enthusiastic wish that everyone "(have sex) freely and without fear," he's a little light on the real-life implications of such a lifestyle.
I exchanged e-mails with Paul Morris in an attempt to interview a real-life couple he just re-signed to exclusive bareback video naughtiness. The couple includes an HIV-negative top and a positive bottom, and I thought this would be a great opportunity to educate gay men by going "behind the scenes" and speaking to these two actors in a way that focused on their real life and didn't demonize them.
Paul was complimentary of my blog and confident that his actors would be glad to communicate with me if I would e-mail my questions to them. I did so, and my queries included: How big an issue was HIV to them? Did one worry for the other's long term health? Was the positive partner on meds? How did they handle feeling judged by those who disagreed with their bareback porn star habits?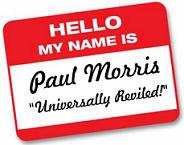 Snarky name badge for Treasure Island Media's director.
Note to self: Do not attempt to "get real" with bareback porn studs or their handlers. I never heard from the actors, or another peep out of Paul Morris. His silence betrays his own grandstanding about the topic (his own press release refers to him as "universally reviled," a title I suspect he enjoys and that he should consider for his name badge at the next Gay Erotic Expo). Or, perhaps Paul Morris really does know his audience, and figures they're uninterested in knowing his stars beyond their sizeable video talents.
It's possible Treasure Island Media is just distracted, what with their recent $21,000 fine by California's OSHA for, among other things, not developing procedures for things as basic as Hepatitis B vaccinations. Or maybe, as the Oscar-winning song laments, it really is hard out here for a pimp. Or a porn producer.
Please be well,
Mark
Get e-mail notifications every time Mark's blog is updated.
Visit Mark's live blog at www.MyFabulousDisease.com.
---
Add Your Comment:
(Please note: Your name and comment will be public, and may even show up in
Internet search results. Be careful when providing personal information! Before
adding your comment, please
read TheBody.com's Comment Policy
.)