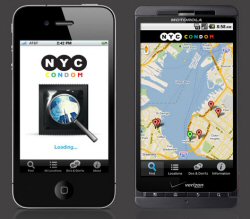 Free condoms just a touch away.
In NYC, smart sex is now available through your smart phone.
After causing a stir over its new video-and-subway HIV-prevention campaign, NYC's health department seems to be getting something right. Today, in honor of Valentine's Day (and National Condom Awareness Day), the department is launching the NYC Condom Finder, a smart phone application designed to locate the five nearest venues that distribute free NYC condoms.
"The application also provides specific directions to each venue, ... the hours of operation for each location, the types of safer sex products available and helpful tips on condom usage. With almost 1,000 condom distribution locations throughout the five boroughs currently accessible through the mobile app, New Yorkers will find that no matter where they are, they can always be protected from sexually transmitted infections (STIs), including HIV, and unintended pregnancy."
Advertisement
To download, New Yorkers with Android or Apple mobile phones should look for 'NYC Condom' in the Android Market or the iPhone App Store. The NYC Condom Facebook page will also include download instructions.
"We don't want not having access to be the barrier, we want condoms to be barrier," Monica Sweeney, assistant commissioner for HIV/AIDS prevention and control, told CNN. "What we're doing is working to make New York City the safest city in the world to have sex."
Since beginning a free condom initiative in 1971, the city has distributed condoms in 3,000 public venues (pick one up at a Housing Works Thrift Shop or at the Bookstore Cafe). The city also launched the country's first municipally branded condom. The NYC Condom is a lubricated Lifestyles male condom -- just like the one found in stores -- but has its own unique wrapper (and it's free!). Any NYC-based organization, public or private, can order them in bulk by calling 311 or by visiting nyc.gov.
(Please note: Your name and comment will be public, and may even show up in
Internet search results. Be careful when providing personal information! Before
adding your comment, please
read TheBody.com's Comment Policy
.)