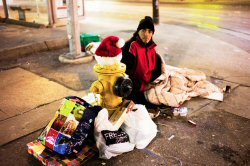 Don't be fooled by HOPE -- homelessness is getting worse.
Tonight 3,000 well-meaning volunteers will fan out across New York City to count the number of homeless people sleeping in doorways, subway tunnels and parks. The results will be the basis of the annual Homeless Outreach Population Estimate, and, if past years are any indication, the Bloomberg administration will proudly present the numbers as evidence that homelessness is dropping in the Big Apple.
Problem is, it's not. While the city says the number of street homeless people has declined 29 percent since 2005 (down to 3,111 from from 4,395, according to last year's HOPE survey), the reality is far more grim: The sheltered population in NYC has shot dangerously upward since Bloomberg was elected, due in large part to his failure to combat an increasingly acute affordable housing problem. The number of homeless New Yorkers who slept in the municipal shelter system during the last fiscal year was 39 percent higher than in 2002 -- Bloomberg's first year as mayor.
Advertisement
"The city puts so much PR and spin resources into this HOPE survey," said Patrick Markee, senior policy analyst at the Coalition for the Homeless, the nation's oldest service and advocacy organization for homeless people. "It's a disservice to the general public."
Years of Criticism
The HOPE estimate is a point-in-time count of unsheltered individuals in the city, organized by the Department of Homeless Services. "It's one indicator that we use to judge how our very intensive street outreach efforts are going," said DHS Commissioner Seth Diamond, "and it's a way that we can help allocate our resources to see where we need to spend and invest more." Conducted by an army of volunteer counters since 2005, the survey is required by the federal government.
For years, numerous homeless advocacy organizations have questioned the survey's methodology, saying the assessment fails to account for large swaths of people who take refuge from the cold in hidden places, like buildings or alleyways, which are not examined by volunteer counters. Indeed, when NYU and Columbia researchers conducted a survey of the street homeless, asking them where they slept on the night of the survey, 32 percent of those in Manhattan slept in non-visible places. Forty-nine percent of those in other boroughs slept in places also hidden from counters.
NYC's Shelters Swell
The result is a handy data set that says that homelessness is going down in NYC -- and distracting the public from city policies that fail to get a massive sheltered population into long-term affordable housing.
As incomes have stagnated and unemployment in the city has skyrocketed, the Bloomberg administration has allowed the number of affordable housing units to fall precipitously. Between 2002 and 2008, NYC lost nearly 200,000 rental housing units affordable to low-income households, according to the Coalition for the Homeless. That's a more than 16 percent decrease.
Then, in 2005, the mayor introduced an experimental local rental assistance program (called Housing Stability Plus and later revamped as Advantage New York) designed to replace data-proven federal Section 8 vouchers as a means to pay for permanent housing for people in shelters. Most notably, the administration's new program cuts people from rental assistance after two years and makes unrealistic assumptions about the rent that minimum-wage workers can afford. While DHS had said that the programs would reduce the number of people seeking shelter, the reverse has occurred. On Jan. 25, a total of 37,527 people slept in a shelter -- up from the average 33,687 people who slept in shelters in 2005, the first year of the street homeless count.
NYC now has a sheltered population that could fill Madison Square Garden -- twice. Diamond contends, however, that DHS' programs are working. "We've had tremendous success in addressing the sheltered population," he said. "Overall, it's down two percent since a year ago."
When asked, he did not provide those numbers.
Stuck Without a Home
Ignoring the swelling sheltered population will have long-term consequence in the city. Conditions in municipal shelters don't set New Yorkers up for success. Safety hazards, overcrowding and curfews make it difficult for families and individuals to search for work, keep a job, and maintain treatment if they are HIV-positive or otherwise disabled. Kids in shelters do far worse in school than their peers.
"It's a prison camp," said Genghis Khalid Muhammed, a 62-year-old member of the homeless advocacy group Picture the Homeless. Unstably housed for more than a year, he chooses to sleep in the street rather than enter a shelter. "It's like a Catch-22, you just get stuck in there."
It will be one to two months before DHS rolls out the results of tonight's street homelessness survey. Markee at the Coalition for the Homeless isn't holding his breath for the numbers.
"Look, the mayor ran a media company," he said "Don't be surprised about what you hear."