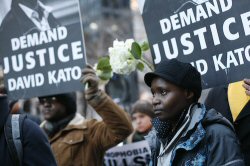 Above: Kato's long-time friend Val Kalende.
Below: Supporters mourn.
A saddened but defiant group of human rights activists gathered in New York on Thursday to remember David Kato, the gay activist found murdered in his home in Uganda last week.
"Dear David, in honor of the sacrifice you have made for all of us, we will do our part [for] the movement you've helped to propel forward by daring to be bold enough for those who do not have the privilege to be bold," said Val Kalende, a Ugandan LGBT activist and long-time friend of Kato's.
Advertisement
Surrounded by at least 100 supporters holding white flowers outside the United Nations, she continued: "In honor of your work, and all the others who have died before -- and will continue to die after you -- we will never stop speaking, we will never stop fighting. Your death will not be in vain."
Kato, perhaps Uganda's best-known defender of gay people, including those living with HIV, was found beaten to death in his Kampala home on January 26. A Ugandan tabloid calling for the murder of gay people had published his photograph, and he had recently won a lawsuit against the publication.
The activist was also a strident critic of of the nation's "Anti-Homosexuality Bill," legislation that would make homosexuality punishable by death.
Ugandan police said that they arrested a man who confessed to killing Kato over a personal disagreement and not because of his activism. Several speakers at the vigil, including NYC Council Speaker Christine Quinn, called the announcement a blatant lie. "Often government are the last people who tell the truth," she said.
Watch the Video
Human rights organizations cite government-sanctioned anti-gay brutality as a major force behind a growing AIDS problem in Uganda. At the beginning of the epidemic, many governments saw Uganda as leader in fighting the virus. Much has changed as the government has cracked down on homosexuality, forcing HIV into the shadows.
HIV prevalence has increased in recent years, and there are now more than 100,000 new infections a year, nearly twice the number that occur in the U.S. An estimated 80 percent of those living with HIV are unaware of their status.
A bill introduced in May 2010, the HIV/AIDS Prevention and Control Act, would punish thousands of people living with HIV, criminalizing transmission and trampling confidentiality rights.
"When there is news about abuses, killings of gay people, it sends out fear, and it sends people underground," said Dr. Cheikh Traore, a sex diversity adviser at the United Nations, and friend of Kato's. He first met the activist three years ago at an African AIDS conference. "It also deters the few courageous people who dare to help those with HIV. It's a huge impediment to progress in fighting AIDS."