Dr. Hader Has Her Say: Part Two -- An Exclusive Interview
By Candace Y.A. Montague

February 1, 2011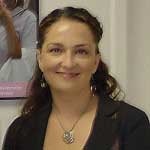 Dr. Hader continues to fight against AIDS. Just not with HAHSTA. Courtesy Photo: Washington Examiner.
The Department of Health's HIV/AIDS, Hepatitis, STD, and Tuberculosis Administration has been in existence (under several other names) since the mid 1980's. HAHSTA's reputation has been embrued by scandal, mismanagement, political battles, financial turmoil and high leadership turnover rates. Dr. Shannon Hader was the twelfth person to hold the senior administrator position. In spite of the negative press and disappointments that arose during her watch (such as the report that showed that DC's HIV infection rate was and still is 3%), she put on a brave face and met the challenge. Part two of the interview reveals what her last day at HAHSTA was like and the advice she offers her successor.

As we both know, the HIV epidemic is accelerated by non-biological factors such as unemployment, housing, domestic violence, poverty, lack of comprehensive sex education, stigma, etc. What two issues would you advise the next senior administrator to tackle first?
Certainly all the issues you list are important. And many of the structural factors -- unemployment, housing, poverty, domestic violence -- are exacerbated during the economic crisis and hard times we're in. They need addressing city-wide and from the highest political leadership, not just from HAHSTA and not just in terms of HIV. But one issue, in good times or bad, that remains a huge problem in DC is stigma. The stigma and silence that go hand and hand cripples communities from becoming "experts" to pro-actively address HIV, and they severely impact persons living with HIV who can be afraid to disclose and seek support even from their closest friends or families. HIV is not going to simply disappear -- so we shouldn't accept that stigma should be allowed to go on as is and be a continued barrier to an empowered response. Second, in good times or bad, it's important to keep making progress in comprehensive health education (including sex education) for youth, so that they become adults building healthy habits over their lifetimes.
What was your last day at HAHSTA like?
I don't like goodbyes, so the "last day" was always going to be difficult. What was nice is that as HAHSTA, we were able to have an all-staff meeting that really reflected on the collective three years of change and progress we'd been through together. I'm not sure folks on the "outside" always get to see the dedication and resilience of the many staff "inside" of HAHSTA. There's a passion and a commitment to hang in there. So it was a good time to share and reflect on that.
Advertisement
What are you doing now?
I'm Vice President and Director of the Center for Health Systems and Solutions for Futures Group, a global health and development organization. We work in over 35 countries across arrange of topics, including HIV/AIDS but also poverty/equity, gender, family planning, population studies, and many more. A key theme is helping leaders, technical experts, and community members use the best evidence for designing and implementing health policies and programs. I've gotten to re-visit countries I've worked in before, such as South Africa, but also engage with new countries, including Afghanistan, India, and Swaziland. It's been amazing to see on the ground how successful our programs in Afghanistan are in increasing access to and use of products to build health children and families -- you don't always read about our Afghanistan success stories in the news.
Is there anything else you would like to say?
Just that now is not the time to relax or put our HIV response in DC on "pause" because of competing needs. Nationally, as state and local governments face budget pressures, many HIV programs are getting cut. Over the last few years, DC has become a place where many of our colleagues turn for ideas and discussion on HIV leadership and innovation. If the District show aggressive dedication to continuing to move forward, it has the opportunity to lead and influence other cities and states to do the same. And with the 2012 International AIDS Conference coming to DC, certainly the eyes of the world will be on us. The consequences of inaction, and the opportunities for success are both extremely high. I urge us to demand success.
To read part one of this interview, click here.

Recommended Reading
Dr. Shannon Hader Resigns as City's Top HIV/AIDS Administrator

The View From the Rearview: AIDS in DC 2010 Part One

AIDS Vote 2010: Vince Gray -- Part One

Get e-mail notifications every time Candace's blog is updated.
---
| | |
| --- | --- |
| No comments have been made. | |
Add Your Comment:
(Please note: Your name and comment will be public, and may even show up in
Internet search results. Be careful when providing personal information! Before
adding your comment, please
read TheBody.com's Comment Policy
.)