Dr. Hader Has Her Say: Part One -- An Exclusive Interview
By Candace Y.A. Montague

February 1, 2011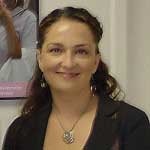 Dr. Hader opens up and closes a few doors. Courtesy Photo: Washington Examiner.
As I stated once before, if Dr. Shannon Hader ever wanted to tell her side of the story I would be listening. Well the time has come. Her unceremonious exit from HAHSTA last June, left many of us in the community bewildered. Today, she graciously emerged in an exclusive interview to give just a little more insight on her perspective. In part one, we see what her high and low points were while serving as the top administrator and what she would do if Mayor Gray offered her old position back to her.
What was it like to be in a position where so many people were looking to you for answers?
I loved this position because it's one in which daily you feel directly connected the needs and services for real people in our community. Neighbors. I'm not sure that folks so much looked to me for answers, but rather they looked to me to help find and support dialogue on the answers, and when needed to support decisions that could move us forward. It's a strange combination of caution and urgency: caution -- in the sense of "first do no harm" -- not acting basted on haste, but based on the best evidence available; and urgency in that remaining at the "status quo" of the response by avoiding the tough decisions was just not an option -- people need and deserve action.
What was your proudest moment at HAHSTA?
Certainly, the most important thing was seeing real change, such as fewer people dying from AIDS -- but of course that should be what we're there to do. Overall beyond the concretes, it was probably that I had the support of community implementers and HAHSTA staff. There were plenty of milestones that we achieved together that led to real change for individuals, including producing and acting upon some of the first detailed data about HIV in DC, dramatically expanding HIV testing, improving linkage to care and re-engagement with care for people living with HIV, systematically increasing sexually transmitted diseases education and services for teens, and many more. But all of those shared accomplishments I think resulted in a strong, respectful, and important working relationships that, as a DC resident and community member myself, means a lot to me.
Advertisement
What were your lowest points? Do you have any regrets?
I think I usually exist in a state of "persistent impatience" -- so despite being part "bureaucrat," I always want things to go faster and have more impact more quickly. There are certain problems that are way beyond the scope of HIV alone that directly affect our ability to achieve best results for the epidemic, such as employment and housing. The economic situation hasn't helped improve those areas over the last few years, and in fact we struggled to keep from reducing services even as the problems and needs expanded in the face of budget cuts.
If Mayor Gray asked you to come back to your old job, would you?
(Smiling) Mayor Gray hasn't been in touch, so I don't think that option is on the table! Certainly I intend on sticking around as part of the community and staying engaged in the response. Here in DC, we definitely need folks outside the government system to become involved, stay involved, and get creative about their involvement in the response to our HIV and health issues. It can't all be done by the government, and I plan to be part of the community participation in moving forward.
In part two, we learn how her last day on the job went, what advice she has for the next senior administrator and what it is she wants to get off her chest.

Recommended Reading
Dr. Shannon Hader Resigns as City's Top HIV/AIDS Administrator

The View From the Rearview: AIDS in DC 2010 Part One

AIDS Vote 2010: Vince Gray -- Part One

Get e-mail notifications every time Candace's blog is updated.
---
| | |
| --- | --- |
| No comments have been made. | |
Add Your Comment:
(Please note: Your name and comment will be public, and may even show up in
Internet search results. Be careful when providing personal information! Before
adding your comment, please
read TheBody.com's Comment Policy
.)