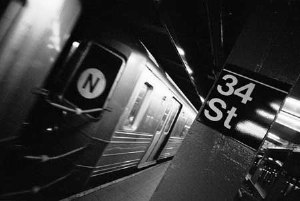 Transit Authority employees cannot legally discriminate against transgender people, a court ruling says.
The New York State Supreme Court has rejected an attempt to challenge the New York City law that prohibits discrimination based on gender identity in public accommodations.
In a landmark decision obtained Thursday by Housing Works' legal team, Justice Kenneth P. Sherman of the New York State Supreme Court, Kings County, upheld the New York City Human Rights Law's provisions prohibiting transgender discrimination against the challenge of the New York City Transit Authority (TA).
Among other things, the TA had argued that the anti-discrimination provisions violate the First Amendment to the United States Constitution; are constitutionally vague; and should not apply to non-supervisory TA employees.
In the first ruling of its kind, Judge Sherman ruled that "the prohibition of bigoted behavior in the public accommodation context contained in the [Human Rights Law] does not violate the constitutional guarantee of free speech." He explained that "the State of New York and its subdivisions, such as the City, have a compelling interest in combating invidious discrimination," and found the Human Rights Law "sustainable as a regulation of a transit system, which is not a 'First Amendment forum.'" The Human Rights law is "narrowly tailored," Judge Sherman noted, and applies "only to agents of public accommodation companies who engage in discriminatory conduct that suggest victims of bias are unwelcome." Judge Sherman ruled, finally, that "[t]here is no authority" for limiting the scope of the Human Rights Law "only to supervisors or managers."
Plaintiff Tracy Bumpus, represented by Housing Works, filed suit against the Transit Authority and one of its employees in 2006, alleging that Transit employees subjected her to a series of transgender-phobic incidents, beginning with a vicious and sustained transphobic tirade on a subway platform after she requested assistance with her MetroCard. This is the latest in a string of victories in the case of Bumpus v. New York City Transit Authority.
Armen H. Merjian, Senior Attorney at Housing Works, commented: "Sadly, we are still in the nascent stages of establishing the basic civil rights of transgender citizens in New York. This was just the latest attempt by the Transit Authority to greatly circumscribe or even eliminate the transgender discrimination provisions of the New York City Human Rights Law, enacted in 2003. We are delighted that the Court has rejected these unfounded challenges and reaffirmed the continuing vitality of this critical law, particularly on behalf of a community long excluded from the anti-discrimination protections afforded by other groups."
A settlement meeting between Housing Works and the TA is scheduled for February. If the parties cannot reach an agreement, however, the case could go to trial.
Read the Decision