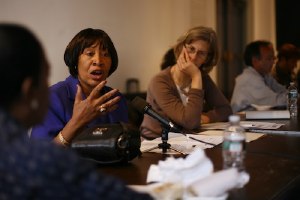 Sweeney defends the video to a packed room.
On Thursday, NYC Department of Health's Dr. Monica Sweeney continued to defend the contentious HIV prevention video that many activists called offensive and sensationalistic when it debuted on TV in December.
"We need to think of all the possible ways ... to get people's attention, because HIV definitely isn't on the front page anymore, at least not until this ad came out," she said, speaking to an audience of more than 100 people at a crowded Ryan White Planning Council meeting in Manhattan.
She rebuffed comments -- made in the past two months and at the meeting -- that the ad stigmatizes gay men. "There's nothing in the ad that says anything about anybody being gay," she said.
A few congratulated the Department of Health, and said they support the use of gory images to convince people to use condoms. "Scare me and scare me good," said Linder Ford, a 20-year survivor of HIV and co-chair of the Brooklyn HIV Care Network. "Scare 'em and scare 'em good."
But most said they felt the negative imagery would backfire. They said the ad would make it more difficult to convince peers to get tested, undermining the city's efforts to fight HIV, especially among young men, the ad's supposed target. There was a murmur of boos after a council chair showed the video, and meeting attendees called it "barbaric" and "homophobic."
Advertisement
"This acts as a barrier for me to get [people] into testing," said Steven Gordon, director of supportive services at the Ali Forney Center, which provides support for LGBT youth at risk of homelessness.
The video, which uses grisly images of disease-ridden individuals in an attempt to scare young men into using condoms, ignited a nationwide debate among AIDS activists in December. Housing Works joined a coalition of other groups, including Gay Men's Health Crisis, Latinos Unidos Contra el SIDA and the National Association of People Living with AIDS in demanding that Sweeney's team pull the video.
The planning council, which consists of 41 individuals with intimate knowledge of the city's HIV/AIDS issues, wrote a letter to Sweeney, also asking for the ad's termination. Many were confused why the Department of Health had not consulted council members in the video's preparation. Sweeney said the ad was more than three years in the making.
At least two individuals suggested that the debate around the video -- and the lack of communication involved in its creation -- was indicative of greater tension between the council and the department. Sweeney's insistence that the ad would be effective "has a certain paternalistic flavor," said Susan Wayne, a medical social worker at Bronx Lebanon Hospital.
The ad airs on television only through January. Meanwhile, the Department of Health has launched another campaign using graphic images to try to alter behavior. As to whether the HIV video will air again in the future -- Sweeney didn't know.
Comment by: John-Manuel Andriote
(Connecticut) Thu., Jan. 27, 2011 at 1:28 pm UTC
Prevention educators have been using gory images trying to shock gay men into practicing safer sex since the beginning of the epidemic 30 years ago. One of the earliest prevention posters, in San Francisco, showed an hourglass dripping blood with the caption "Time is Running Out." Others have tried to sex up condoms, calling them "lifeguards" and "raincoats" and other euphemisms intended to make gay men embrace and use condoms even though no man, straight or gay, has ever liked to wear a condom. They really do dull sensation, and there's no way around it.
The New York health department ads are just the latest installment of this tried and not-so-true approach.
What we've seen precious little of in the past three decades is prevention campaigns aimed at building self-respect, respect for our sexual partners, and confidence that we matter. I was told in 2010, when I interviewed prevention researchers and practitioners across the country for a new edition of my book Victory Deferred, "Funding isn't available to address 'those' kinds of issues because they're not considered 'actual' HIV prevention." Yet they all agreed 'those' issues MUST be addressed if gay men are to practice safer sexual behavior. Healthy people act in ways to protect and respect themselves and their partners. But we have a lot of wounded gay men behaving in ways that wounded people behave. Is that a surprise?
The New York health department is also shirking another matter: Their campaign serves to undermine the self-esteem and efficacy of HIV+ people who are doing all we can--I am one of them--to live well with HIV. Giving the false impression that cancer and other horrors of untreated HIV infection are virtually inevitable can push someone to the point of believing he can't live well with the virus, so why bother trying.
Give up the scare tactics, please. Address the real reasons gay men put ourselves at risk. That would be a MUCH better way to spend taxpayer dollars.