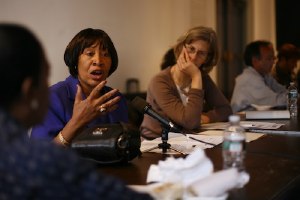 Sweeney defends the video to a packed room.
On Thursday, NYC Department of Health's Dr. Monica Sweeney continued to defend the contentious HIV prevention video that many activists called offensive and sensationalistic when it debuted on TV in December.
"We need to think of all the possible ways ... to get people's attention, because HIV definitely isn't on the front page anymore, at least not until this ad came out," she said, speaking to an audience of more than 100 people at a crowded Ryan White Planning Council meeting in Manhattan.
She rebuffed comments -- made in the past two months and at the meeting -- that the ad stigmatizes gay men. "There's nothing in the ad that says anything about anybody being gay," she said.
A few congratulated the Department of Health, and said they support the use of gory images to convince people to use condoms. "Scare me and scare me good," said Linder Ford, a 20-year survivor of HIV and co-chair of the Brooklyn HIV Care Network. "Scare 'em and scare 'em good."
But most said they felt the negative imagery would backfire. They said the ad would make it more difficult to convince peers to get tested, undermining the city's efforts to fight HIV, especially among young men, the ad's supposed target. There was a murmur of boos after a council chair showed the video, and meeting attendees called it "barbaric" and "homophobic."
Advertisement
"This acts as a barrier for me to get [people] into testing," said Steven Gordon, director of supportive services at the Ali Forney Center, which provides support for LGBT youth at risk of homelessness.
The video, which uses grisly images of disease-ridden individuals in an attempt to scare young men into using condoms, ignited a nationwide debate among AIDS activists in December. Housing Works joined a coalition of other groups, including Gay Men's Health Crisis, Latinos Unidos Contra el SIDA and the National Association of People Living with AIDS in demanding that Sweeney's team pull the video.
The planning council, which consists of 41 individuals with intimate knowledge of the city's HIV/AIDS issues, wrote a letter to Sweeney, also asking for the ad's termination. Many were confused why the Department of Health had not consulted council members in the video's preparation. Sweeney said the ad was more than three years in the making.
At least two individuals suggested that the debate around the video -- and the lack of communication involved in its creation -- was indicative of greater tension between the council and the department. Sweeney's insistence that the ad would be effective "has a certain paternalistic flavor," said Susan Wayne, a medical social worker at Bronx Lebanon Hospital.
The ad airs on television only through January. Meanwhile, the Department of Health has launched another campaign using graphic images to try to alter behavior. As to whether the HIV video will air again in the future -- Sweeney didn't know.