It's really surprising that they did all these other tests before a simple HIV test.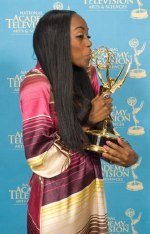 Marvelyn after winning an Emmy Award for a Kaiser Family Foundation/MTV Think PSA in 2007.
They never thought I was positive, ever. I was a healthy, young woman who had never been to the hospital a day in my life. I was an athlete. They say it's because I had insurance. You know, like, all these things.
Oh, I see.
Yeah. Which is no excuse, but ...
Which is no excuse, of course. Thankfully, you're OK now. Are you on meds?
Yes, I am.
What are you taking?
I am on two PIs [protease inhibitors] and a non-nuke.
Which ones, specifically?
I don't ever get into that. I don't because I get a lot of e-mails from positive people that are like: "What medication are you on? You look good. I want your medication!" But just because it works for me doesn't mean it will work for you. I need you to take your virus more seriously and see what you need to be on.
And medication is only part of the reason why I look good. I mean, I've got to give my mom and my daddy some credit.
Good genes. What else do you do to keep healthy? Obviously, you exercise, being an athlete.
Yeah, and I eat right.
Is there a special diet, specifically?
Advertisement
No, no. I'm not really on a special diet. And it's really hard, because I'm constantly traveling. But I make sure to eat a lot of greens. I eat organic as much as I possibly can. And I don't eat a lot of fried foods.
Good advice. So, we've alluded to all the work that you do. What specifically is it that you do? How would you classify it?
I'm an author and a public speaker.
I read that you started your own organization. Can you tell me about it?
It's called Marvelous Connections. And I tell people all the time that it's not a dating service, because people think I can hook them up, but I cannot. I just called it Marvelous Connections because the tagline is "Connecting Ignorance to HIV Education." And with it I do consulting work for media companies about fun and individual ways that they can put HIV into their programming so that it relates to young people. That also involves HIV testing, going out into the communities, doing HIV 101, and relating my personal story.
Also, currently, I'm the ambassador for this really great campaign. It's called Greater Than AIDS. It's a campaign that lets people know that they are greater than the virus. It's a really good campaign that's getting a lot of attention. And they just released phase two of the campaign, which is called Deciding Moments. I'm just so happy to be involved to the point where it will be featured on billboards, and on bus stations, and magazines. The "deciding moment" is just the moment that someone felt that they were greater than AIDS -- and my deciding moment was reaching others with my story.
So, if you visit the Web site, greaterthan.org, it's letting all people tell what their deciding moments were, and how they feel they are greater than AIDS.

A Greater Than AIDS highway billboard in Philadelphia featuring Marvelyn.
What has doing all of this work taught you?
Oh, it's definitely taught me to really accept myself for who I am, and to realize ... I look back at me as a child, and there was just no way that I was going to be a leader. It's shocking to me because constantly, as a child, I had people telling me what I wasn't capable of, or what I would never do. And this was even before HIV. Then when the HIV came, it was just like, "Oh, you're really doomed now." So to be able to tell my story, and it impacts people, is great.
As a child, my mom had me involved in all kinds of crazy stuff, from dancing, to acting, to singing. So I was put on a stage before I was even ready, or really knew what it was. And I feel like everything I did, including playing sports, has led me to be this activist that I am, and has helped me in that way.
So through it all, I've really learned to love myself, accept myself, and also to really take responsibility. Because I think that taking responsibility was the one thing I was so scared about when it came to being a leader. I didn't want it. Put that on someone else!
Do you ever get tired of it? Do you think you'll stop?
No, I don't.
Why do you think that you're only one of the few young, black, positive women out there speaking about HIV?
People ask me that all the time, and I have no idea. Other than this is what I'm supposed to be doing, and I've got God behind me. Because I come across so many young people who have stories and I'm even mesmerized by their stories. I'm like, everyone's paying attention to mine! I can't explain it.
There are a lot of issues in HIV today. Which are the most pressing? Which ones need to be addressed more?
Since I'm more on the prevention side, I really try to stay away from policy and politics. I definitely see issues that need to be addressed and be of concern, but I really leave that to my colleagues. Because HIV is so broad, and I just don't want to step outside of the prevention thing that I'm on.
Well, from a prevention standpoint, what do you think needs fixing?
Oh, HIV needs to be talked about more in the schools. Like, I'm sick and tired of going into these schools and kids having to have permission slips to hear me talk. Or, the state doesn't approve my programming, so I can't even come in there and give basic HIV 101 -- you know, basic comprehensive sex education. This needs to be happening. There are a lot of things on the prevention standpoint.
"HIV is not an adjective. It doesn't define me. It's not who I am. It's just a virus that I have."
In your book, you spoke about what you call the duality of HIV where, on the one hand, you're inspired to make a difference, but on the other hand, you don't want to be defined by your disease. Could you talk about that a little?
Yeah. HIV is not an adjective. It doesn't define me. It's not who I am. It's just a virus that I have. I don't want to be defined by it, because it's not an adjective. I want to be defined as being marvelous. That's the adjective that defines me.
Could you talk about how you feel about HIV now, as opposed to your feelings when you were first diagnosed?
Although HIV is manageable, it's still very, very hard to live with. So I take it very seriously. I take my virus seriously. That's the only way that I can continue to kick its ass. I have to stay one step above it. And so I do. I take it very seriously now. In the beginning, I didn't look at it any differently than I looked at cancer, diabetes, or anything like that. I know now that it's a lot more serious.
"Life goes on. And HIV will do what you let it do. Yes, you now have it; however, you can live with it. You can deal with it, and you can overcome it."
That's good. Is that the advice you would give to anyone else who just found out he or she was positive?
Yeah, absolutely. I would let them know that it does not define you. And life goes on. And HIV will do what you let it do. Yes, you now have it; however, you can live with it. You can deal with it, and you can overcome it.
That's great advice. What would you tell people who are HIV negative?
Stay that way. Stay that way. You do not want this. And if I hear one more person say one more time, "You know, it's one pill, once a day." Yeah? I can't even take that one pill, once a day. I take seven horse pills each and every day of my life. And even if it is just one pill, once a day, I'm pretty sure it has side effects and everything else. And you still have to deal with the stigma of being HIV positive.
You don't want it. So if you're negative, stay that way because you do not get a second chance for this. You do not get time off. No vacation. It's not a child; it cannot go off to college 18 years down the line; your little sister cannot babysit it. You have to be responsible for it 24/7.
Well with that, this interview will come to an end. Marvelyn, it's been a great pleasure talking to you.
This transcript has been lightly edited for clarity.
Warren Tong is the research editor for TheBody.com and TheBodyPRO.com.