That article almost didn't happen, too, right? Because you wanted to pull it at the very last second.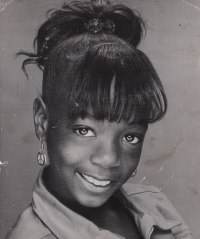 Marvelyn, age 8.
Yeah. Because I realized that it was permanent; there was no turning back from it. That is what I realized, this is like, "Oh, my goodness gracious." I was scared. I didn't have any support at the time, either.
What was the best response that you got from sharing your story?
Oh, that I made HIV real to them. It's always wonderful to know, not only who's hearing my story, but who's impacted by my story. And for someone to tell me that I made it real to them and it's now something that they're going to take seriously, that's why I do it. I don't do it to be on the back of Doritos bags. No, I don't.
You're doing it to help and educate people, of course.
And those who were like me, those who were uneducated, misinformed -- that's who I'm talking to.
Do you ever get bad responses? What's the worst reaction you've gotten?
I've never gotten any bad responses.
Really?
Not when I do a speaking engagement, or anything like that. Now, I have gotten hate mail and all kinds of stuff. But I couldn't even tell you what those things said, because they didn't impact me in any way. If anything, it motivated me to really feel like my work is not done, and there's more that I need to be doing.
When you're not Marvelyn Brown the speaker, and all that -- when you're just a normal person on the street -- do you ever get recognized, or anything like that?
Advertisement
Oh, yeah. Yeah, I do.
And how do you react? I mean, especially with all of the stigma and just wanting to be by yourself. How do you react when people recognize you?
I don't know. I kind of just go with the flow. But most of the time I'm laughing, because I think it's so funny. I'm like, these people think I'm important! [Laughs.]
Well, you are.
Yeah, I am, but I don't look at it like that. I really, really don't. I mean, you look at it like a job, like this is what you're doing. It's just weird. Anybody who will tell you they met me, they'll tell you I laughed.
But I listen to what they have to say and I respond. Sometimes I tell people it's not the place [to discuss personal matters.] I guess they see the strength in me that they don't necessarily see in themselves. And they automatically want to open up to me. I'm like, "This is really not the place for you to be telling me what happened last night with your boyfriend and his mistress."
Has being this public HIV activist affected your personal relationships at all?
Yes.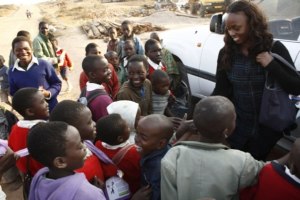 Marvelyn with children in Tanzania.
How has it affected your family, for instance?
This had a great effect on my family. I mean, my nieces are in high school. And they've been in different incidents where their friends make fun, and do and say all these things all because I'm public; all because I'm sharing my story. Now they have to deal with it. And they don't see. They only see, "Oh, you know, my aunt's on Top Model," or, "My aunt's here; my aunt's there."
They don't see the e-mails that I get that I don't tell them about, or the stigma that I face that they don't know about. And so when it happens to them, they're automatically in this defense mode.
I see.
Yeah. And they don't understand it. They don't understand it. "I like my auntie. I love Marvelyn. Why don't you?"
Have you spoken to them about HIV? Do they know everything about it, and all that?
Oh, yeah. Oh, yeah. Like a book. Yeah, they do.
Great. Has this sort of reaction spilled over to your personal sex life or relationships?
You know what? I don't think I would have a problem with a relationship or a guy if I just wouldn't have told nobody, if you want to know the truth. I think most guys are really intimidated by the simple fact that so many people know my status, and that goes for positive and negative guys. I mean, it's really weird.
I have the same problem with those who are positive [as I do with those who are] negative. Neither one of them is easier, and there are a lot of similarities. But on the flip side of things, it's helped me weed out a lot of guys. Like, I don't have to do dating. I don't have to go through that dating period that most people go through. All I have to do is tell them I'm HIV positive. If they stay, it's a good sign; if they leave, it's a bad sign. And I don't say it's a bad sign because, oh, they don't want to be with me because I'm positive. But if you can't look past the simple fact that I'm not HIV -- it's just a virus that lives in my body; it's preventable -- then you had another agenda.
Is it that they can't deal with you being public about it?
So many people knowing, yeah, and being public.
Can we talk a little bit about your health since your diagnosis? How are you doing? How are you feeling?
My health is great. Last time I checked, I had 1,010 T cells.
"I go out and I help others, but I am helping myself, too. I do a lot of stuff for myself, and I love myself. I care about my health. So I do what the doctor tells me to do, whether I like it or not."
Oh, wow.
I'm undetectable. It's one of those things. I go out and I help others, but I am helping myself, too. I do a lot of stuff for myself, and I love myself. I care about my health. So I do what the doctor tells me to do, whether I like it or not.
And how did you find your doctor?
Actually, she was my infectious disease specialist.
So, the same one who was present when you were diagnosed, right?
Yes. Her name is Dr. Lea. She was called in to do the serious tests on me. She's the one who discovered I had pneumonia, who later told the doctors, "She's HIV positive." And when she came in to give me more information -- this is after I had already had the pamphlets and the booklets that the emergency room doctor had given me -- she got to talking, and I was like, "You're stuck with me."
She started laughing. I said, "No. You're stuck with me." You know, because I was on my deathbed. They told me I had 24 hours to live. It was the end for me. And I looked at her like: I trust you. You saved my life. Matter of fact, you actually saved me a lot of money, too. Because if they would have done another test on me, I would have been in debt for the rest of my life. Like, thank you, but you're stuck with me.