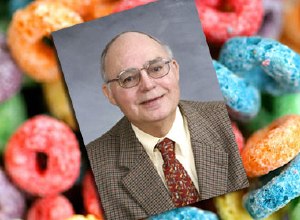 Rep. Brown mouths off. But he's not alone in his view that HIV-positive people don't deserve funding.
In North Carolina this week, state Rep. Larry Brown announced that the government should not spend money to treat adults with HIV/AIDS who "caused it by the way they live."
His unfortunate and ridiculously uninformed comments are the latest in a string of events and reports that reveal just how distressing the situation has become for HIV-positive individuals in the South.
(Curious about the picture? Last year he called gay people "fruit loops" in an e-mail to other legislators).
This month, the Center for HIV Law & Policy released a report that found that 50 percent of HIV-positive Southerners who needed legal assistance accessing basic rights -- like housing or health care -- could not get that assistance.
Meanwhile, Southerners now make up 91 percent of the 5,154 people on wait lists for the nation's AIDS Drug Assistance Programs, the joint state-federal programs that provide desperately needed drugs for low and mid-income people living with AIDS.
Brown might be willing to mouth off in ways that other politicians aren't. But his disturbingly honest comments reflect something deeper: The lack of attention given to HIV below the Mason-Dixon line is intrinsically linked to politicians' views about who does -- and does not -- deserve help.
And the victims of these policies? You guessed it. They are overwhelmingly poor and black.
Advertisement
"You'd be foolish not to see that there is some kind of systemic lack of prioritization in the South," said Beirne Roose-Snyder, a staff attorney at the Center for HIV Law & Policy and the author of the report on the dearth of legal services in the region.
Luke Versher has been HIV-positive for 22 years. As a field organizer at AIDS Action Mississippi, he galvanizes the local HIV-positive community (much of it minority and low-income) to push for changes in policy.
But the task is an incredible challenge: Politicians never broach the topic, he said, except to push for a law that would criminalize the transmission of all STDs. Mississippi, the poorest state in the nation, spent just $750,000 last year on HIV/AIDS programming. As a result, the state has a growing HIV/AIDS rate.
"In terms of service access, compared to New York, we're back in the stone age," he said. In the last two years, Versher has watched at least 10 people die "simply because of stigma," he said. "They didn't want to keep medications in their homes because they don't want to be found out, or they don't go in for services because they don't want to be recognized."
He blames rampant stigma on elected officials.
Whether or not the South progresses in terms of HIV funding, policy and service access may hinge on the implementation of the National HIV/AIDS Strategy, which President Obama released in July. Housing Works criticized the plan for its insufficiently aggressive goals -- and among other things, the fact that it does not specifically address how to battle HIV in the South.
The Office of National AIDS Policy, however, has yet to hash out all the details about how the plan will be implemented. The office has promised to reveal many of them at a hearing at the end of the month. Angered by Brown's comments? Check back with the Update at the end of January to see if the South gets sufficient attention.