Jumping Empty-Handed Into the Void
By River Huston

January 14, 2011
Over the course of the next few days it was revealed to me that I was meant to live here, from the sunset walks to the morning swims on an empty beach. What sealed the deal was one morning while sitting at a restaurant on the ocean in St. Thomas (I had gone over with Linda to get a feel of what shopping for groceries was like) I was talking about how to make it work in particular with my husband and she said to me, "It will not get any better." What she meant was I was still trying to control everything. She continued by saying, not only was I hurting him, I was hurting myself. Maybe I just wanted to hear that but I felt like I was just punched in the stomach. I knew it was the truth. Once I started to think of only me in the apartment it was easy. I signed a lease and went home to tell my husband.
I was filled with guilt: Here was a man who stood by me when I was ill. For over five years while receiving a weekly IV treatment for ITP, when I was weak and sick and barely had the energy to work let alone really participate in a relationship, he buoyed my spirits and his love carried me through such dark times. What a jerk I was leaving him at his lowest. I talked to my husband about taking a year away so I can sort out my feelings. He was sad about my choice but understanding my need, he agreed.
Two days before I was to leave we were sitting in an empty house, or almost empty. I had sold everything, packed away my paintings and had gone and seen all my doctors, had all my shots and mammograms; and he said to me, "You are not coming back, are you?" I said I didn't know. He became enraged and said all the things I had been thinking: "Thanks for standing by me when I really need you; I was there for you," He stormed off and started making plans for himself.
As painful as that conversation was, he was suddenly taking some action. Up till then he had been paralyzed. The hardest thing was to not give in and tell him how much I love him and want him to come with me. Translate: continue to control his life, take care of everything, and make it work.
He drove me to the airport. Our conversation alternated between love and bitterness. It was three days before our 10th wedding anniversary. I got out of the car and it took everything I had within me to walk away. I lugged the three huge suitcases and a handful of prescriptions from my doctor for every possible disaster or ailment and set forth on another journey. Four hours later I landed in St. Thomas, took a cab to Tickles and a ferry to my new home.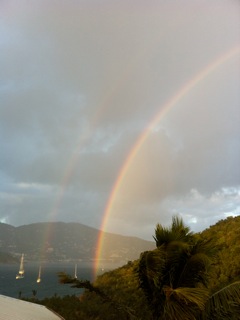 From my front porch.
It has been several weeks and it is the best thing I have done for myself and my relationship. My husband is OK; he's working very hard to create a life for himself. He is doing some things he dreamed of but because of our beautiful prison he was also unable to do. He is excited and working toward his goals every day. Some days I want to go home so badly but I know that it would revert back to the same dynamic; I am not that well yet. If it is meant to be I know in the future this time and space will allow us to be together in a whole different way.
In the meantime I wake at dawn, go for a run then a swim, do yoga on the beach. Catch a ride with one of my new friends (of Bill W.) on one of their dinghies, go to St. Thomas for a 12-step meeting then take the ferry home back to my lovely retreat and work either painting, writing or running my business. I am scheduling my performances and presentations so I will come up one week out of the month, and I've already connected with the Department of Education for the Caribbean Territories.
At night I sit quietly looking out on the twinkling lights of St. Thomas. Most all the time in-between in waking meditations, no TV, no radio, no distraction; I feel so blessed. I speak with my husband every night (thank you Skype!) before I go to bed.
I still feel twinges of guilt but mostly I have found peace and I am excited about my future. I am broke, no credit cards and I relearned how to live on a super slim budget (rice and beans) and it adds to my meditative state. I have the time to cook.
Island living is not for pussies, as romantic as it may seem; it is very different than anything you can imagine. Every little thing you need you have to bring here. Water is scarce and there are all kinds of creepy crawlies. But it has made me realize how little I need and how aware I have become.
I also know I will not stay here forever. I can go and do anything. My job affords me that luxury. I have enough frequent flyer points to fly around the world. I am thinking Thailand then Madrid. I always wanted to live in San Francisco and now realize, for a couple of months, I can sublet or find a room. I am excited about the possibilities. Most of all I am learning to let go. No expectations.
I no longer say, "I lost everything." Now I say, "I let it go; I shed one life for another." If HIV has taught me anything it is that if I wanted another 10 years in the situation I was in it was sure to stay the same. Nothing changes if nothing changes. The band-aid is now floating in the Caribbean along with 1,000 pounds of dysfunction and I feel lighter, happier and free.
Get e-mail notifications every time River's blog is updated.
---
Add Your Comment:
(Please note: Your name and comment will be public, and may even show up in
Internet search results. Be careful when providing personal information! Before
adding your comment, please
read TheBody.com's Comment Policy
.)