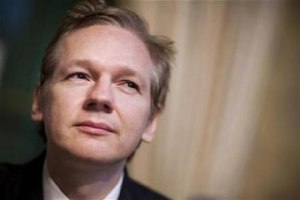 It's no wonder Assange doesn't want to head to Sweden -- the country is home to some pretty scary HIV crim laws.
The arrest of Wikileaks founder Julian Assange has focused a spotlight on Sweden's supposedly liberal, human rights-based sex conduct laws, which allow for a rape conviction even when a perpetrator uses a low level of coercion.
The extradition case against Assange began when two Swedish women contacted authorities to compel him to take an STD test. As reported by Reuters, Assange may have tried to have sex with the women without a condom.
What STD are the women worried about? That hasn't been made public. But if, as part of an STD test, Assange were to test positive for HIV, the legal consequences could be dire. When it comes to the virus, Sweden's policies are far from "liberal" or "rights-based." The country is home to some scarily repressive HIV criminalization laws, which have allowed for the forced isolation of at least 100 HIV-positive people.
"Sweden and its Nordic neighbors are pretty draconian in the way they use their laws to control the lives of people living with HIV and AIDS," said Edwin Bernard, editor of HIV and the Criminal Law, an extensive summary of laws, prosecutions and responses to criminalization of HIV. "Sweden is by far the worst, though."
According to the National AIDS Manual, the Scandinavian nation has prosecuted more people living with HIV per capita for exposure or transmission than any other country in the world.
Punishment Under the Communicable Disease Act
Despite recent arguments from UN Special Rapporteur Anand Grover that HIV criminalization fuels stigma, discourages testing and undermines public health goals, Sweden continues to persecute HIV-positive people under its Communicable Disease Act.
The law mandates the "obligation to inform sexual partners about infection carrier status." In practice, those convicted of violating the act are often subject to extensive punishment.
Advertisement
Perhaps most strikingly, the act allows for the compulsory isolation of an HIV-positive person if officials decide that he or she is "not ready to undergo the measures to prevent" transmission. The law places no limits on how long such cumulative isolation may continue. Detentions happen about once a year, according to Andreas Berglöf, organization manager at HIV-Sweden, but "just having the legal possibility is awful, we think."
The National AIDS Manual offers a higher estimate, saying that at least 100 people have been isolated under this measure.
HIV-Sweden, an umbrella organization that works to protect HIV-positive persons, has documented at least 50 prosecutions and 38 convictions for nondisclosure since 1992, a fairly high number, considering there are just over 5,000 people in Sweden living with HIV.
Incarceration for nondisclosure can last up two to years, and up to 10 years if transmission occurs. The average sentence is five to 10 years. Damages of around 700,000 krona -- or about $100,000 -- are not unusual if transmission occurs, according to a 2009 report from HIV-Sweden. And not surprisingly, foreign nationals are disproportionately affected by the policies.
The European Court of Human Rights has lashed out against Sweden's repressive policies, saying in 2005 that Sweden had violated the right to liberty and security of an HIV-positive man forcibly detained for up to seven years.
No word on when or if Assange will head to Sweden to answer questions about alleged sexual misconduct -- or if he'll take STD tests. But with these laws on the books, who would?