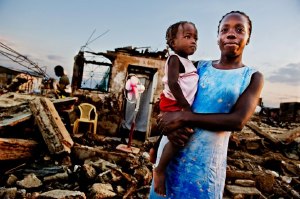 March with us Jan. 12 to call for change.
On Wednesday, Jan. 12, New Yorkers from all walks of life will gather in Times Square for a march marking the one-year anniversary of the earthquake in Haiti. Speakers will include Rev. Al Sharpton, Police Commissioner Ray Kelly, Rev. Jacques Andre DeGraff, Comptroller John Liu and others. The march is a show of solidarity (check out this video) -- but it's also a protest with four key demands for progress in Haiti, which has been agonizingly, unacceptably slow.
The event next week, called Marching for Change, will call on Haitian and world leaders to address the four major obstacles to recovery in Haiti: rubble removal; safe and secure shelter; clean water and sanitation; and jobs. Below, we explain where Haiti stands in relation to each of those demands. In all four cases, the situation is dire.
1) Remove the Rubble
Rubble removal is critical if Haiti is to begin rebuilding. Last month, the Interim Haiti Recovery Committee determined that more than 10 million cubic meters remain strewn about the country -- more than 50 percent of original 19 million cubic meters estimated by the U.S. Army Corps of Engineers. President Bill Clinton recently called the removal rate "totally unacceptable" and argued that either more money or a different clearing method is needed.
2) Provide Safe and Secure Shelter
The focus of redevelopment efforts must be on replacing the intolerable conditions of unplanned encampments with long-term housing. An estimated one million of the 1.3 to 1.5 million people thrown from their homes by the quake are still internally displaced, according to the International Organization for Migration. The more than 1,000 camps dotting the country are potential incubators for cholera, sexual violence and the spread of HIV -- and make establishing permanent infrastructure extremely difficult.
3) Provide Clean Water and Sanitation
Advertisement
There are simple, effective ways to provide clean water in Haiti. Yet forty percent of displaced persons camps lack access to water, and another 30 percent do not have toilets of any kind, according to a study by Mark Schuller, a U.S. anthropologist documenting conditions in post-quake Haiti. As a result, water-borne cholera had claimed more than 3,000 lives as of Dec. 29, according to the Pan-American Health Organization. Without immediate change, the Haitian government estimates that it will see nearly half a million cholera cases by October 2011.
4) Provide Jobs
Haiti's economy must be revitalized to provide national stability and break the cycle of poverty. The disaster knocked down mom-and-pop shops, destroyed inventory and disabled entire industries. Unemployment was already widespread but has skyrocketed since. A survey by the Oxfam relief organization found the number of people without work quadrupled in areas of Port-au-Prince and its outskirts. In late December, Ricardo Seitenfus, then the Special Representative for Haiti at the Organization of American States, estimated the unemployment rate at 80 percent.
At the New York City rally on Jan. 12, we have the opportunity to show the world's leaders that change must begin now in Haiti. "Behind these numbers are real people. They are my friends, they are my family, they are the people I love," said Edner Boucicaut, Housing Works Haiti country director, who is based in Port-au-Prince. "We need a large, unified, impassioned showing at this rally, or nothing will change."
Learn how to march with us. Use your voice. See you there!
In coalition with three other organizations, Housing Works funds and operates three medical clinics dedicated to serving marginalized and at-risk individuals and families. Because of this, we are actively involved in advocating for the rights of all Haitians.